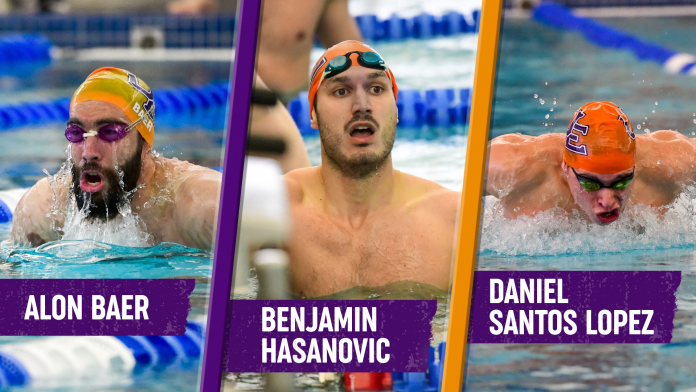 EVANSVILLE, Ind. – Three members of the University of Evansville swimming team – junior Alon Baer (Gesher HaZiv, Israel) and sophomores Daniel Santos Lopez (Madrid, Spain) and Benjamin Hasanovic (Innsbruck, Austria) – will represent UE next week at one of the nation's premiere swimming events, as they will each take part in the Toyota U.S. Open Championships at the Greensboro Aquatic Center in Greensboro, North Carolina.
The Toyota U.S. Open Championships will run from Wednesday, November 30 through Saturday, December 3.  The long-course meter competition is expected to consist of hundreds of athletes, including members of the U.S. National Team, National Junior Team, the 2020 U.S. Olympic team, and the 2022 FINA World Championships U.S. roster.  In order to participate in the meet, participants had to meet qualifying time standards in either the long-course meter or short-course yard version of events between November 1, 2021 and today.
Baer qualified in both the 100 and 200 Breaststroke events by meeting the short-course yard standards with times of 54.11 and 1:58.70, respectively, at last year's MAC Championships.  He also reached qualifying standards in the events over the summer in the long-course meter version of the events while competing in his native Israel.
Hasanovic qualified for the 100 Breaststroke event with a long-course meter time of 1:04.76 at a meet in his native Austria this past August.  Santos Lopez, meanwhile, will represent UE in the 100 Butterfly competition, after meeting the short-course yard standard with a time of 48.29 last year, and lowering that mark earlier this month at the A3 Performance Invitational with a school-record time of 48.00.
"We are really excited to have three members of our program qualify for an event of this quality," said UE swimming and diving head coach Stuart Wilson.  "The Toyota U.S. Open is one of the top swimming events in the country.
"Even though we compete and train collegiately in short-course yards, all three of these men are built to compete in long-course meters.  They have done that their entire life while competing overseas, and I am really looking forward to seeing what they can do next week."
Collegiate swimming is competed in short-course yards, with pool lengths being 25 yards.  A long-course meter competition will feature a pool length of 50 meters (54.6807 yards).