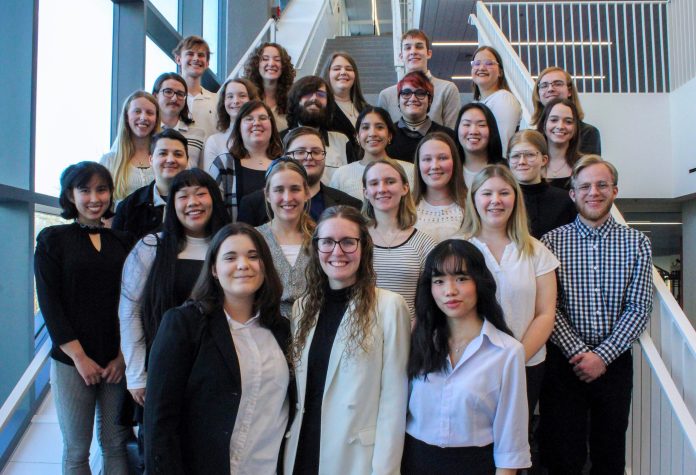 The Shield, the University of Southern Indiana's student-run newspaper, was awarded multiple honors by the Indiana Collegiate Press Association (ICPA) as part of its 2023 Spring Contest.  

Overall publication awards were determined by the results of individual award winners from each participating organization. 

"The students of The Shield staff represent some of the hardest working, passionate and determined among us, and these awards speak to the fruits of that labor," says Ben Luttrull, Student Publication Manager/Advisor and Instructor in Journalism. "Not only is this a celebration of their effort, it confirms the USI community benefits from high-quality, professional journalism and a robust, strong student press. I'm extremely proud of the entire staff and am thrilled to see them build on this for years to come." 

Listed below are Online, DII Newspaper and Advertising awards. Please note, ICPA does not use NCAA divisions for its awards. For the purpose of the Newspaper category, awards are based on enrollment. The Non-Newspaper categories (Online and Advertising) are not separated by division. All institutions compete in these categories.  

Online 

Use of Social Media: Second Place 

Special Presentation, USI to go Division I: Second Place 

Online Publication of the Year: Third Place 

Online Publication of the Year: Third Place 

Email Newsletter: First and Third Place 

DII Newspaper 

Feature Page Design, Maliah White: First Place 

Sports Page Design, Maliah White: First Place 

Informational Graphic, Maliah White: First Place 

Cover Design, Maliah White and Quinton Watt: Second Place 

Overall Design, Maliah White: Second Place 

Feature Reporting, Tegan Ruhl: Third Place 

Staff Editorial, Shelby Clark: Third Place 

Editorial Cartoon, Elizabeth Harris: Third Place 

Advertising 

Display Ad, Kyla Dagaton: First Place 

Electronic House Ad, staff: Second Place 

General Media Kit/Marketing Package, The Shield Business Team and Shelby Clark: Second Place 

House Ad, staff: Third Place 

"The student staff at The Shield is so honored and proud to represent the University of Southern Indiana. Our mission, as The Shield, is to serve the students and the campus community with factual information, entertaining content and a forum for discussions that reflect their unique interests and ideas," says Shelby Clark, Editor-in-Chief of The Shield. "As the University's independent student publication, The Shield is completely student-led and operated. These awards are the direct result of student vision, labor and dedication to excellence and servitude. We are humbled and honored to serve the campus community." 

For a full list of 2023 ICPA Spring Contest results, visit ICPAconnect.org. 

###

Founded in 1965, the University of Southern Indiana enrolls nearly 9,200 dual credit, undergraduate, graduate and doctoral students in more than 130 areas of study. A public higher education institution, located on a beautiful 1,400-acre campus in Evansville, Indiana, USI offers programs through the College of Liberal Arts, Romain College of Business, College of Nursing and Health Professions, and the Pott College of Science, Engineering, and Education. The University offers study-abroad opportunities in more than 60 countries and hosts international students from around the globe. USI is a Carnegie Foundation Community Engaged University and offers continuing education and special programs to more than 15,000 participants annually through Outreach and Engagement. USI is online at USI.edu.