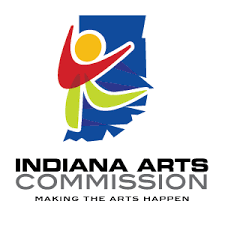 Arts for All – Planning for Accessibility with Betty Siegel
Join the Indiana Arts Commission as Betty Siegel, Director of the Office of Accessibility and VSA at the Kennedy Center, presents on planning for accessibility. This 90-minute session will help you develop an access plan step-by-step, identify what you already have in place and what can be easily added, develop sound policies, and get buy-in from the disability community and your colleagues.
The presentation will take place on Wednesday, March 22nd at 2:30PM ET. 
Register to Attend. After registering, you will receive a confirmation email containing information about joining the meeting.
How an Indiana city's investment in public art mirrors its overall turnaround
PBS News hour, Cat Wise
As with many cities in the Rust Belt, Fort Wayne, Indiana, went through tough times for several decades as manufacturing plants closed, jobs dried up and people left. But recently, the city has made a turnaround and a big investment in public art. Special correspondent Cat Wise spent time with an artist who is a driving force behind that effort.
Watch the segment on PBS News' Arts and Culture segment, CANVAS.
Upcoming Traditional Arts Indiana Documentary Screening : Weaving Indiana
Weaving Indiana presents the lives and work of two rag-rug makers who learned to weave on their family farm in Bartholomew County, Indiana. For Dee Nierman and her niece, Margaret Luckey Snyder, making rugs is more than a hobby. It is a practice deeply rooted in family history and community life.
The film centers on the historical roots of this creative practice and the ways it has found new life in Southern Indiana today. Though they learned the craft out of necessity, Dee and Margaret have continued to weave throughout their lives, serving as important fiber arts ambassadors in Southern Indiana. They regularly participate in regional fairs and festivals, where their rugs are met with an enthusiastic market. By focusing on the work of two individual makers, Weaving Indiana tells a larger story about women's work, family life, and cultural continuity in Southern Indiana.
Traditional Arts Indiana is hosting two free screenings of the documentary:
March 16, 6:00PM ET – Bartholomew County Public Library, Columbus, IN
March 21, 5:00PM ET – Wells Library Screening Room, Bloomington, IN
Indiana Educator Fellowship for Creative Teaching
Looking to find new ways to engage students in learning?  The Indiana Arts Commission and Indiana Department of Education have partnered to provide robust training, funding, and a community of experts to inspire and implement creativity-centered innovation in the classroom for selected teachers across the state. The Indiana Educator Fellowship for Creative Teaching celebrates and supports outstanding educators to expand classroom teaching through creativity.
If selected, Creative Teaching Fellows Receive:
Two days of immersive training in creativity and connections to standards
Access to a fully funded in-school creative arts residency
Support from community creative partners, experts, and professionals
Membership in a statewide community of energetic, innovative educators
A $1,000 honoraria
Selected Creative Teaching Fellows will gather with their like-minded educator peers who are also looking to grow their teaching practice in innovative ways. After exploring what creativity in education can be in theory during the summer training, all Creative Teaching Fellows will collaborate with their Community Arts Partner to bring a professional, in-person artist residency in their classroom in the Fall semester to see the work in a real classroom setting.
The deadline to apply to be a part of the Creative Teaching Fellows Cohort is April 10, 2023.
Lifelong Arts for Aging Services Providers
According to the Creativity and Aging Study, creative arts experiences for people over 65 have been shown to have significant health and well-being benefits. The aging population throughout the country is increasing rapidly, and Indiana Family and Social Services Administration (FSSA) reports that in Indiana specifically there are 1,364,288 individuals over the age of 60, according to 2016 U.S. Census data. In order to support the health and wellbeing of older Hoosiers, the Indiana Arts Commission (IAC) and FSSA are hosting four, free lifelong arts training opportunities across the state.
The trainings are designed for professionals in the aging services community, such as area agencies on aging, senior centers, or other community-based senior-serving organizations, and will focus on information about creative aging theory, step-by-step planning support, practical application of the learnings, and the opportunity for grant support.
Aging Service Providers can sign up for one of four free, in-person workshops. The training sessions are as follows:
April 28, 2023: Fort Wayne
June 23, 2023: Bloomington
Sept. 19, 2023: Evansville
Nov. 14, 2023: Gary
Aging services provider training participants will be eligible to apply for Lifelong Arts Early Action Grants, which fund a sequential arts-learning experience for a group of older adults in their community. Grants will be for up to $5,000 and must be led by a qualified artist.
Learn more about the program and different training and funding opportunities available.
Taxes for Artists with Elaine Grogan Luttrull
Are you an artists or creative entrepreneur, or do you know one? This virtual workshop will review federal income tax basics for creative individuals, including common deductions claimed by creative entrepreneurs. We'll also outline how the tax landscape changes based on the type of income an artist earns and highlight key aspects of tax law that impact financial wellness, including deducting interest for student loan payments and saving for retirement. We'll touch briefly on some state and local income tax issues, and we'll conclude by reviewing some tips and best practices to keep excellent records.
The IAC webinar is free to attend and will take place via zoom on March 30, 2023 at 5:00PM. Register now.
Dates and opportunities to keep an eye on:
Job Opportunities: