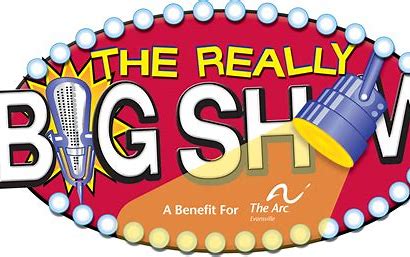 NEXT YEAR MARKS THE 20TH ANNIVERSARY OF THE SHOW AND TICKETS ARE ON SALE NOW.
The Arc of Evansville will host The Really Big Show with a Roaring 20's theme for its' 20thAnniversary year on February 12, 2022. Returning hosts Jeff Lyons, Chief Meteorologist for 14News, and Marc Scott unveiled the theme during a press event this week. A link to the full press event is now available.
The Really Big Show is a one-of-a-kind event for the whole family, featuring a variety of acts performed by community members and local household names. The Roaring 20's anniversary show will highlight Gina Moore, the Children's Choir of Evansville, the Central High School Choir, Newburgh's own Little Dam Band, plus many more.
Before commencing ticket sales by purchasing the first seats, Evansville's Mayor, Lloyd Winnecke, announced he will once again take the stage as part of the performance. "We are blessed to have so many wonderful organizations in our community. This is not only a really bigshow, but it's a really great show and always fun to participate in. I don't know what I'll be asked to do for the February 12th show, but I'll be ready to do it because it supports a wonderful organization," Winnecke noted during the press conference.
Guests will enjoy scores of live entertainment acts during The Really Big Show and will also get a glimpse of the incredible work The Arc of Evansville provides. A post-event reception offers themed cuisine and beverage, along with a silent auction and continued fun.
Event Information:
What:                   The Really Big Show
When:                  February 12, 2022 at 7:00 PM
Where:                Old National Events Plaza, Aiken Theatre Atrium
Tickets:                Tickets are $25.00 available at the Old National Events Plaza box office.
*plus applicable fees for tickets purchased at Ticketmaster.com.
FOOTNOTE: Community partners include Old National Bank, Toyota Motor Manufacturing, Indiana, Bussing- Koch Foundation, Inc., Shoe Carnival, Atlas World Group, Inc., BKD CPAs & Advisors, Harding Shymanski & Company, Tri-State Fire Protection, VFW 1114 Auxiliary, Warehouse Services, Inc., Alpha Laser and Imaging LLC, Anchor Industries, INC, Baird Private Wealth Management, Felts Lock & Alarm CO., INC, Happe & Sons Construction, Inc., IBEW Local 16, Margaret Boarman, Woodward Commercial Realty, Inc.