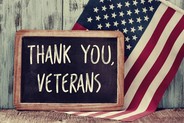 The organization trains Veterans, and service members in yoga, and meditation to alleviate military stressors
Executive Director, Warriors at Ease
CORRECTION: A VetResources email on July 26, 2023 stated that this training is available at no cost. The training is not free.Scholarships are available for Veterans, service members, spouses, Guard, Reserve and Gold Star families. For FREE yoga classes, Veterans can check out these resources.
While great strides have been made across the Department of Defense and VA to make yoga more accessible to the military community, the team at Warriors at Ease still finds service members and Veterans often turn to the highly accessible, low-cost, side-effect-free practices of yoga, meditation and mindfulness as a last resort.
Founded in 2011, Warriors at Ease is a nonprofit group dedicated to ensuring that every member of the military community is trained in using yoga and meditation to alleviate the stressors of military life and aid in preventing and rehabilitating the physical and invisible injuries that stem from time in service. The organization's co-founders were involved in some of the first clinical studies funded by DoD and VA involving the use of yoga and meditation as an adjunct therapy for combat-related health conditions.
In response to the success of these early studies at the Walter Reed National Military Medical Center, as well as the VA medical centers in Washington D.C. and Miami, the founders of Warriors at Ease developed a robust, world-class training curriculum that directly addresses the unique physical and mental health challenges faced by service members and their families.
The suite of Warriors at Ease trainings includes two core offerings:
Level One: Fundamentals of Trauma Sensitive Yoga, Meditation, and Mindfulness for the Military Community
Level Two: Advanced Yoga Techniques, Protocols and Adaptations for the Military Community
Since its founding, nearly 1,400 yoga and meditation instructors, health care workers and service providers have taken a Warriors at Ease training. Plus, over 80% of those trained are service members, Veterans, spouses or family members themselves.
What is covered in Warriors at Ease training?
The Level One Fundamentals training is self-paced, offered online and requires no prior yoga teaching experience. Modules include:
Core Concepts, Principles, and Skills for Teaching in Military Communities
Skillfully Responding to Abreactions
Teaching Meditation in Military Communities: Overview and Guidelines
Best Practices for Teaching an Adaptive Yoga Class
Working with Survivors of Military Sexual Trauma
The Level Two Advanced Training is open to 200-hour trained yoga instructors and provides three days of in-person, hands-on experience in how to teach adaptive yoga and trauma-informed meditation and mindfulness practices to the military community. Lectures are interwoven through hours of hands-on practice labs that address the most common physical and invisible injuries seen in service, including anxiety, depression, hearing loss, back pain and loss of limb.
What makes a Warriors at Ease-style class different?
All Warriors at Ease-trained teachers have undergone highly specialized training in how to bring mind-body practices to the military community in a way that doesn't feel culturally off-putting and addresses the physical and invisible injuries of the military community. Many students claim that being in a class with a Warriors at Ease-trained teacher "feels different than other classes." They often say they "feel more safe."
A recreation therapist who works in the Army Recovery Care Program shared, "Finding a Warriors at Ease-trained instructor was like striking gold. Yoga has a lot of benefits when taught by any trained instructor. But when it's taught by an instructor that is trained specifically to deliver trauma-informed evidence-based practice, that therapeutic value skyrockets and change occurs."
Where can I find a Warriors at Ease-trained teacher?
Warriors at Ease-trained teachers can be found in clinical and non-clinical settings. They include VA facilities, military installations, Vet Centers, the Steven A. Cohen Veterans Network, Wounded Warrior Project, the Travis Mills Foundation, Semper Fi Odyssey, PB Abbate, behavioral health and substance abuse facilities, yoga studios and more. You can find a Warriors at Ease-trained teacher near you or take a recorded class by a Warriors at Ease-trained teacher by visiting this page.
If you are a yoga or meditation teacher, social worker, psychologist, recreational therapist, physical therapist, nurse or doctor and would like to learn how to bring these transformative practices to the military community in a way that's culturally aligned and specific to the needs of service members, you can sign up for the Level One Fundamentals course at warriorsatease.org/trainings or email reg@warriorsatease.org. For more information on Warriors at Ease or to inquire about custom trainings for your unit, installation, VA facility, Vet Center or nonprofit, contact Executive Director Alli Houseworth at alli@warriorsatease.org.