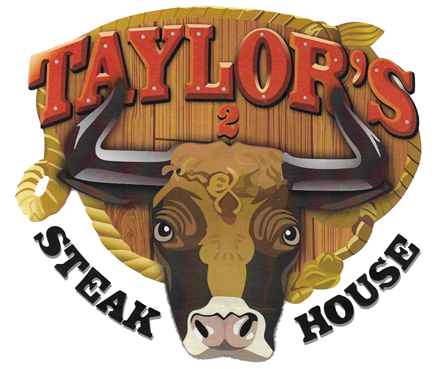 Taylor's Two Steakhouse "An Oakland City Gem"
by Jim Staley 
City-County Observer Entertainment Writer
There is an old saying "From a small acorn grows a might oak".  Well, there is a "Might Acorn" in "OAK" land City.  And that "Mighty Acorn" is Taylor's 2 Steakhouse.  Taylor's 2 Steakhouse is a "Hidden Gem", a "Diamond in the Rough"…but when you get down to it, it's a great place to have an excellent meal at an affordable price.
New owner Paul Green is a native of Gibson County and resident of Evansville purchased Taylor's Two Steakhouse located in Oakland City, Ind. from the original owner's Betty and Neal Newton in July of this year. One of the reasons Paul bought Taylor's 2 is that it had a very good reputation.  Paul plans to continue to improve the reputation while adding some of his personal touches to the place.
Since he bought the restaurant he has made very few changes to the menu and the building.  However, he has added a new bar plus a few tasty additions to the menu like Pepper Jack Cheese Balls and Tater Kegs (will get to those shortly).
The dinner menu is limited but has basically everything you might want to eat.  If you're looking for a monster steak we recommend that you try the 18-20 oz. scrumptious ribeye.  There are also huge 1 1/2-inch Pork Chops, Ham Steak, and Jumbo Shrimp on the menu.  They all come with salad and a choice of potato.
The dinner menu may be a little limited but the choice of sandwiches is not. They have everything from the half-pound Hoosier Burger to grilled cheese and let's not forget the thick German fried bologna sandwich.  Paul also changed the Steakhouse's fish sandwich from a battered cod to an 8 oz. fish filet rolled in cornmeal and spices.  Add one of the great sides and you have a tasty sandwich plate. Speaking of sides, I mentioned the Tater Kegs.
Paul said "They are similar to tater tots only huge.  It is a combination of potato, cheese, and bacon, deep-fried. It is kind of like a double-baked potato." And of course, Taylor's 2 Steakhouse has a full-service bar.
Not long ago a group of my friends and me traveled to Oakland City to check Taylor's 2 Steakhouse out.  We started out with the Tater Kegs which everyone completely enjoyed.  For an entree, pretty much everyone had either the Ribeye or the Pork Chops.  I had the scrumptious 18-20 ounce Ribeye. It was grilled to perfection, medium-rare, and was wonderful. I had the loaded baked potato and a specially prepared Onion Vinaigrette dressing on my salad.  I can eat a big meal in one sitting but I had to take about a third of my steak home.
The other popular choice of our group was the 1 1/2 inch Pork Chop.  Along with salad and potato, they got two "HUGE" and I mean huge Pork Chops that were grilled to perfection. Our entire group thoroughly enjoyed the food and the atmosphere.
According to Paul Green, "previous owners Betty and Neal Newton built the reputation of what Taylor's 2 Steakhouse is today".  Paul plans on keeping and improving that good reputation.
Taylor's 2 Steakhouse is located at 518 E Morton St. in Oakland City and is open 7 days a week. With I-69 it makes it a quick trip from Evansville and its surrounding communities to Oakland City.
We considered Taylor Two Steakhouse the best-kept culinary secret in our region!