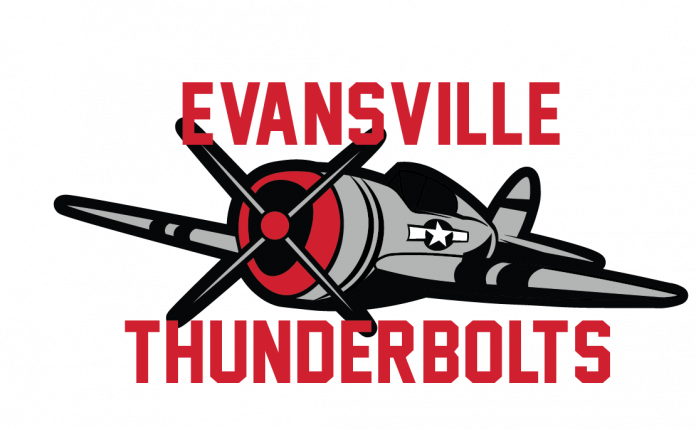 Evansville, In.:  In the final regular season meeting against the Havoc this season, the Thunderbolts controlled every aspect of play as they defeated Huntsville 3-1 in front of over 3,000 fans at Ford Center on Sunday afternoon.  The Thunderbolts' next home game will be on Friday, January 27th  against the Macon Mayhem at 7:00pm CT.  For tickets, call (812)422-BOLT (2658), go to EvansvilleThunderbolts.com, or visit the Ford Center Ticket Office.
The game started with a fight only 2 seconds in, as Dillon Hill and Havoc defenseman Dominic Procopio squared off in a spirited center-ice bout.  Later in the first period it was Scott Kirton who gave the Thunderbolts a 1-0 lead, assisted by Brendan Harrogate and Hill at 15:11.  Both teams scored early in the second period as Harrogate scored a power play goal from Aaron Huffnagle and Cameron Cook to make it 2-0 at 2:04 before Kasey Kulczycki scored for Huntsville at 3:20 to cut Evansville's lead to 2-1.  Another goal early in the third period from Kirton on the power play assisted by Cook and Harrogate extended the Thunderbolts lead to 3-1 at 5:50.  Down the stretch, excellent penalty killing, sound overall defense, and flawless goaltending from Sammy Bernard held the Havoc scoreless in the third period as the Thunderbolts defeated the Havoc 3-1, winning the regular season series 4-3.
                Kirton finished with two goals, while Harrogate scored one goal and two assists.  Cook tallied two assists, while Bernard stopped 23 of 24 shots faced in goal for his 2nd win of the season.  This was the final regular season meeting between the Thunderbolts and Havoc.