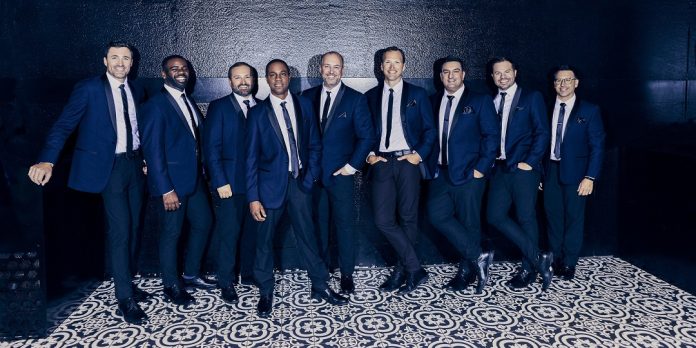 STRAIGHT NO CHASER ANNOUNCES FALL  SLEIGHIN' IT TOUR WILL STOP IN EVANSVILLE
TICKETS GO ON SALE NATIONALLY ON FRIDAY, MAY 12, 2023 AT 10 AM
Evansville, IN – May 9, 2023 – RIAA-certified Gold a cappella group Straight No Chaser announced the Sleighin' It Tour, their fall 2023 run of live shows, will stop at Old National Events Plaza on December 17, 2023. Fans can look forward to a local presale for the best seats on May 11, 2023, at 10 AM.
Initially formed at Indiana University, Straight No Chaser emerged at the forefront of the modern-day a cappella movement and has since sold more than three million albums worldwide, garnered more than a billion streams on Pandora alone, and sold more than 1.5 million concert tickets worldwide. In the fall of 2022, the group performed in more than 60 cities across the US with multiple sold-out shows, including their 26th consecutive sell-out in Indianapolis, IN.
Ranked in the top 20 of Pollstar's "Live 75" for tours at the end of 2022, Straight No Chaser's annual fall tours have become part of family holiday traditions throughout the United States. Evansville native and band member Steve Morgan said,  "We see a lot of the same fans year after year. We'll have three or four generations all coming to see the show together. They tell us that we are one of their holiday traditions, and it's not really the holidays until they have come to see our show."
Locally, fans enjoy hearing holiday favorites on Straight No Chaser's annual fall tour, along with classics from the 50's through today's hottest songs. There are so many songs to enjoy together, making this concert a wonderful holiday family experience
For more information about Straight No Chaser visit www.sncmusic.com.
Ticket Information:
What:                   Straight No Chaser: The Sleighin' It Tour
When:                  Sunday, December 17, 2023, at 7:00 PM
Where:                Old National Events Plaza | 715 Locust Street | Evansville, IN 47708
Tickets:                Tickets start at $25.50 plus applicable fees and tax.
Tickets are available at Ticketmaster.com or the Old National Events Plaza Box Office. For more information about the Aiken Theatre, visit: www.oldnationaleventsplaza.com 
About Old National Events Plaza
Old National Events Plaza, managed by ASM Global, is Evansville, Indiana's premier convention center and largest live entertainment theatre. Housing a spacious 2,500-seat theatre, 38,000 square- feet of column-free exhibit space, a beautiful 14,000 square-foot ballroom, and 12,00 square feet of meeting space, Old National Events Plaza hosts a variety of events. The venue offers easy scheduling, one-stop-shop services, and in-house catering and audio-visual services. For more information and a complete schedule of events, please visit www.oldnationaleventsplaza.com.