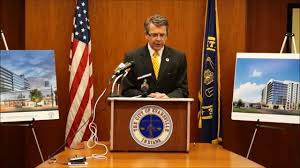 Mayor Lloyd Winnecke will host a special Traveling City Hall meeting on Wednesday, July 15 from 5 to 7 p.m. at Anthony Oates Park (directions) near Woodland Park Apartments.
Mayor Winnecke and City department heads will be available to talk one-on-one with Woodland Park residents about potential code issues and other concerns. All residents are invited to discuss issues involving local government.
The Reopen Evansville Task Force and Feed Evansville will distribute free protective masks and meal boxes to those in need.
Representatives from the U.S. Census Bureau will also be available to answer questions about the 2020 Census count process.
Participants are expected to follow social distancing guidelines and wear a mask when less than six feet away from others.
Future dates for 2020 Traveling City Hall meetings have not been scheduled at this time.