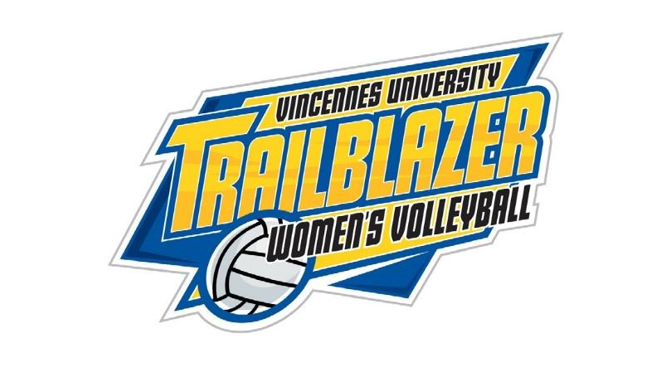 HANCEVILLE, Ala. – The No. 18-ranked Vincennes University volleyball team came away with a two-game split on the final day of the Wallace State C.C. Fall Bash, defeating Calhoun C.C. 20-25, 25-14, 25-23, 25-13 and falling to host Wallace State 25-23, 17-25, 21-25, 25-22, 13-15.
The Blazers entered today's matches playing without two sophomore hitters Paige Parlanti (Las Vegas, Nev.) and Audrey Buis (Franklin, Ind.) forcing some of VU's freshmen to step up and play in different roles and different rotations.
VU got off to a slow start with this new lineup on the floor, quickly falling behind to the Warhawks 6-1 before battling back to even the game at 10-10.
Calhoun would later build a five-point lead at 19-14 before VU would cut the deficit down to just one point.
The Warhawks would close out the first set of the day on a 5-1 scoring run to take set one over the Trailblazers 25-20.
VU looked to answer back in a big way in set two, grabbing the early lead and growing a big 19-9 advantage before taking the second set 25-14 and evening the match at 1-1 heading to the third.
Set three was another back-and-forth battle with VU breaking away late with a 4-0 run to take a 20-15 lead.
Calhoun would answer back to cut the deficit to one but were unable to take the lead back as VU took set three 25-23 and earned a 2-1 match lead.
Looking to close out the first match of the day, the Trailblazers used a big 14-1 scoring run to build an 18-6 lead over Calhoun.
The Warhawks looked to battle back late but were unable to overcome the large deficit as Vincennes takes set four 25-13 and wins the match 3-1.
First of all, I want to express how proud I am of the team today," VUVB Head Coach Gary Sien said. "They played their hearts out. The University should be proud of them too. You can only practice certain situations to duplicate when these things happen but you never imagine having your two main hitters being out at the same time. You also have to take into account the huge leadership deficit. That's what Audrey and Paige bring to the table."
"We had to put different people in new positions and play others for the first time in some positions," Sien added. "So, it was a hodge-podge for them to deal with. Just some 'holes' that we have to come together and fill."
The Trailblazers were led offensively by freshman Laura Tavares (Meridia, Venezuela) who had a big game at the net with 14 kills, four blocks, three digs and one ace.
Freshman Elisa Dalla Pozza (Vincenza, Italy) set a new career-high by reaching double-figure kills for the first time this season, ending with 11 kills, two aces, one block and one dig.
Freshman Isadora Dias (Rio Grande de Norte, Brazil) was the third VU hitter to reach double-figures in the match, finishing with 10 kills, six digs, one set assist and one ace.
Sophomore Kennedy Sowell (Effingham, Ill.) set a new career-high for kills as well, falling just short of double-digits with nine kills, one block and one dig.
Freshman Libby Mehringer (Jasper, Ind.) had a good all-around game, finishing with four kills and team-highs with three aces and 13 digs.
Sophomore setter Maecy Johnson (Chrisman, Ill.) ran the VU offense very well all game on her way to a new career-high of 42 set assists, three kills, two blocks, two aces and one dig.
Sophomore libero Morgan Netcott (Montague, Mich.) and freshman Grace Flexter (Oblong, Ill.) headlined the VU back row defense, with the pair each finishing with 11 digs and Netcott adding three set assists and Flexter ending with one set assist.
The Blazers then had to turn around immediately and face another NJCAA Division II receiving votes team, their third of the weekend, in host Wallace State Community College.
Vincennes looked to continue to ride the momentum off of their earlier win over Calhoun in set one against the Lions, jumping out to an early 10-4 lead.
Wallace State would respond back on their home floor to cut the VU lead down to two before Vincennes would later grow their lead back to seven at 20-13.
The Lions would slowly chip away at the VU lead and even the score at 23-23, before the Blazers closed out the first set on back-to-back points to grab set one 25-23 and take the early 1-0 match lead.
Wallace State came out of the gates firing in set two, using an 8-0 scoring run to build a 20-5 lead over the Blazers.
Vincennes would look to rally back and began to climb back into the set with a 6-0 scoring run, but were unable to erase the WSCC lead as Wallace State evened the match at 1-1 by winning set two 25-17.
Set three began as more of a back-and-forth battle between two evenly matched teams, with Wallace State building a four-point lead before VU rallied to even the set at 21-21.
Wallace State called a late timeout and came out of the huddle to score four unanswered and take set three 25-21 and take a 2-1 match lead.
The Lions continued to ride this momentum early in the fourth set, jumping out to a 6-1 lead and later holding a four-point lead at 15-11 before the Trailblazers bounced back to even the game at 15-15.
Wallace State would again build a three-point advantage before VU closed out the set on a 7-1 scoring run to take set four 25-22 and force a winner-take-all fifth set.
Wallace State grabbed the early momentum in the fifth set, using a 4-0 run to take an 8-5 lead and continued to add on to take an 11-6 lead.
Vincennes answered back to cut the deficit down to just one point at 13-12 but were unable to fully take the lead back as Wallace State takes set five 15-13 and the match over the Blazers 3-2.
"Definitely a tough scenario to play the toughest team this weekend on their home floor in the last match," Sien said. "Due to the changes, I felt like our blocking wasn't consistently there at times and we absolutely needed to have that against a good hitting team like Wallace State. We had our moments, we just needed a couple more here and there."
"I want to point out what a good job Isadora did today," Sien added. "She played as an outside hitter in six rotations replacing one of our two missing sophomores. She played very little back row before this weekend, so she had a good, well-rounded weekend."
"Maecy had an excellent two days running the offense," Sien said. "She did an especially good job today with all the different personnel in there. She had some very good numbers as we had her running a five-one or one setter system."
"The middles, Kennedy and Elisa, who do a thankless job and had the best weekend in the season thus far," Sien added. "They connected well on offense and had some good numbers with blocking."
Isadora Dias led the VU offense against Wallace State, having a big hitting game to set a new career-high with 25 kills, four digs, three aces and two blocks.
Laura Tavares and Elisa Dalla Pozza had another all-around game, with Tavares ending with nine kills, three blocks, one ace and one dig, while Dalla Pozza filled up the stats sheet with seven kills, four blocks, two aces, one dig and one set assist.
Kennedy Sowell ended the tournament with six kills, one block, one dig and one set assist.
Setter Maecy Johnson had another big game running the VU offense, besting her career-high set against Calhoun with 47 set assists against Wallace State, seven digs, two kills and one ace.
Libero Morgan Netcott and Grace Flexter rounded out the VU stats with Netcott adding 24 digs, two set assists and one ace, while Flexter ended with nine digs and two aces.
The Trailblazers will be on the road again next week, starting with the Blazers heading to Ullin, Ill. to face-off against Region 24 opponent Shawnee Community College Tuesday, Sept. 26 at 6:30 p.m.
VU will then turn their attentions to the Parkland College Fall Challenge in Champaign, Ill. Friday, Sept. 29 and Saturday, Sept. 30.
The Blazers are slated to play against three NJCAA Division II ranked opponents during the two-day weekend tournament, facing No. 17 Illinois Central Friday at 5 p.m. eastern, Southeastern Community College at 7 p.m. eastern, then closing out the weekend against No. 4-ranked Heartland at 12 p.m. eastern Saturday and No. 15 Lincoln Land C.C. at 4 p.m. eastern Saturday.
"I wanted to see who among the freshmen were going to step up and handle the pressure today," Sien said. "I wanted to see who was going to step forward and lead. I think they found that out about themselves. We will certainly need that as we move forward in the season and will be better equipped to do so."
BOX SCORE
GAME ONE
Calhoun – 25   14   23   13   x
VUVB (18-1, 7-0) – 20   25   25   25   x
VINCENNES STATS
Grace Flexter – 11 digs, 1 set assist
Morgan Netcott – 11 digs, 3 set assists
Isadora Dias – 11 points, 1 ace, 10 kills, 6 digs, 1 set assist
Maecy Johnson – 6 points, 2 aces, 3 kills, 2 block assists, 1 dig, 42 set assists
Kennedy Sowell – 9.5 points, 9 kills, 1 block assist, 1 dig
Elisa Dalla Pozza – 13.5 points, 2 aces, 11 kills, 1 block assist, 1 dig
Laura Tavares – 18.5 points, 1 ace, 14 kills, 3 solo blocks, 1 block assist, 3 digs
Libby Mehringer – 7 points, 3 aces, 4 kills, 13 digs
GAME TWO
Wallace State – 23   25   25   22   15
VUVB (18-2, 7-0) – 25   17   21   25   13
VINCENNES STATS
Grace Flexter – 2 points, 2 aces, 9 digs
Morgan Netcott – 1 point, 1 ace, 24 digs, 2 set assists
Isadora Dias – 29.5 points, 3 aces, 25 kills, 1 solo block, 1 block assist, 4 digs
Maecy Johnson -3 points, 1 ace, 2 kills, 7 digs, 47 set assists
Kennedy Sowell – 7 points, 6 kills, 1 solo block, 1 dig, 1 set assist
Elisa Dalla Pozza – 11.5 points, 2 aces, 7 kills, 1 solo block, 3 block assists, 1 dig, 1 set assist
Laura Tavares – 12 points, 1 ace, 9 kills, 1 solo block, 2 block assists, 1 dig
Libby Mehringer – 8 points, 2 aces, 6 kills, 10 digs