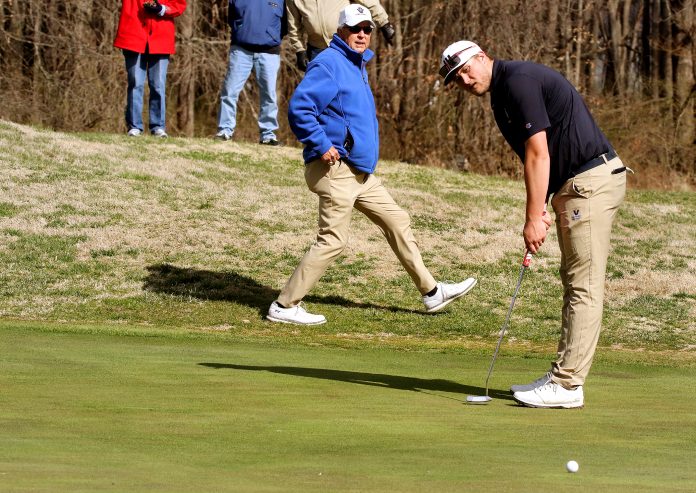 ROBINSON, Ill. – VU sophomore Paxton Schwomeyer (Oakland City, Ind.) had one of his best tournaments as a Trailblazer Wednesday afternoon in the 27-hole Lincoln Trail College Spring Invitational at Quail Creek Country Club in Robinson.
Schwomeyer got off to a slow start to the tournament, taking a triple bogey on his second hole of the day, but was able to regroup and power through to finish the day with a 27-hole score of 119 and end in a five-way tie for first place on the leaderboard.
Schwomeyer shot an 82 in the full 18 hole round and followed that with an impressive one-over 37 in the final nine holes.
Sophomore Luke VanDeventer (Columbus, Ind.) was the second lowest VU scorer, matching Schwomeyer's 82 in the first round, before coming back with a very solid three-over 39 in the nine-hole round. VanDeventer would finish with a total tournament score of 121 and finish eighth overall.
Sophomore Caleb Newman (Vincennes, Ind.) was next on the leaderboard and was the third Trailblazer to finish in the top 10 Wednesday. Newman shot an opening round 83 and a final round 40 to place 10th.
Freshmen Nate Olsen (Greenwood, Ind.) and Aaron Brink (Nashville, Ill.) finished the day tied on the scoreboard, with Olsen shooting the best 18-hole score for the Blazers with an 81 before shooting a 46 in the final nine holes.
Brink showed the most improvement out of any VU golfer Wednesday, shooting an 87 in the first round and ending the day with a 40 in the final round. Olsen and Brink each tied for 12th overall.
Sophomores Adam Leach (North Vernon, Ind.), Sam Stewart (Floyds Knobs, Ind.) and Caleb Maris (Terre Haute, Ind.) finished one after another on the scoreboard, with Leach ending with a tournament score of 130 and placing 18th, Stewart placed 19th at 131 and Maris finished 20th at 132.
Sophomore Garrett Hulfachor (Lawrenceville, Ill.) rounded out the VU scorers Wednesday, with the sophomore lefty shooting a 134, placing him in a tie for 21st.
"Paxton struggled out of the gate with a triple bogy on a tough par three on his second hole," VU Hall of Fame Golf Coach Dennis Chattin said. "I think that created some doubt but I was proud of the way he came back with a one over 37 in the last nine. He actually missed a three-foot putt, lipping out on the last hole. It was tough because had it fallen, he would have won the tournament outright, instead of tying for first."
"Caleb Newman had his best tournament, finishing 10th," Chattin added. "He has really worked hard and I was really glad to see him rewarded."
The Blazers will hope to keep this hot streak going into their next tournament, when VU travels to Nicholasville, Ky. to take part in the Garn Championships at the Keene Trace Golf Club.
First round will take place on Monday, March 27, with the final round closing out the tournament on Tuesday, March 28.
RESULTS
TEAM RESULTS
Illinois Central – 321, 156 – 477
VU (A) – 330, 161 – 491
Lincoln Trail – 330, 164 – 494
VU (B) – 347, 173 – 520
INDIVIDUAL RESULTS
Paxton Schwomeyer (T1) – 82, 37 – 119
Luke VanDeventer (8) – 82, 39 – 121
Caleb Newman (10) – 83, 40 – 123
Nate Olsen (T12) – 81, 46 – 127
Aaron Brink (T12) – 87, 40 – 127
Adam Leach (18) – 85, 45 – 130
Sam Stewart (19) – 87, 44 – 131
Caleb Maris (20) – 88, 44 – 132
Garrett Hulfachor (T21) – 89, 45 – 134