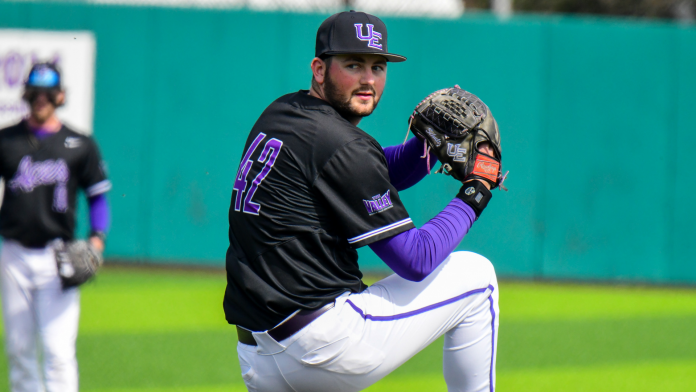 MURFREESBORO, Tenn. – University of Evansville junior starter Donovan Schultz tossed seven shutout innings on Sunday, and fifth-year first baseman Chase Hug and sophomore outfielder Ty Rumsey launched home runs, as the Purple Aces downed the host Middle Tennessee State Blue Raiders, 5-3, to win the weekend series at Reese Smith Jr Field in Murfreesboro, Tennessee.
"This was a great series win on the road for this team," said UE head coach Wes Carroll.  "I really am proud of the effort and energy this squad showed the last two days after losing the opener on Friday.  Donovan Schultz had an outstanding effort today, and Chase Hug just continues to stay hot at the plate."
Evansville jumped out early, scoring a run before Schultz even took the mound.  UE loaded the bases on a hit-by-pitch, a walk, and a bunt single by junior shortstop Simon Scherry, before junior catcher Brendan Hord plated a run with a run-scoring fielder's choice to give UE a 1-0 lead.
MTSU would threaten with two men on in the bottom of the inning, but Schultz worked out of it.  Then, a lead-off double in the bottom of the second inning put Schultz in another jam, but he bounced back to retire the next three men in order, and retired the next six men overall to set the tone for the contest.
Hug would then manufacture two runs for Schultz and the Aces in the fourth inning.  With two outs, he roped an RBI double into the right-field corner to move UE's lead to 2-0.  Then, Hug scampered home from second on a wild pitch to move the lead to 3-0.
Schultz kept the Blue Raiders at bay through the middle innings, again retiring six-straight men at one point, before Hug would crush a solo home run to right field to give UE a 4-0 lead.  Schultz then worked around a lead-off walk in the seventh inning to keep the Blue Raiders scoreless in his final inning of work.  Schultz (2-1) scattered three hits and three walks in 7.0 scoreless innings while striking out four to earn his second-straight victory on the mound.
Rumsey would cap UE's scoring with a solo home run of his own to right field in the eighth inning to push the lead to 5-0.  The Blue Raiders would score three runs in the ninth inning, but reliever John MacCauley got MTSU shortstop Brett Coker to ground out to Scherry at short to end the contest.
Hug went 2-for-3 with a double, a home run, two runs scored and two RBI to lead UE.  Rumsey also went 2-for-4 with a home run – his first of the year.  Scherry, senior second baseman Brent Widder and sophomore third baseman Ben Stuart also had hits for UE.
With the victory, Evansville improves to 9-7 overall and has won nine of its last 11 games overall.  MTSU, meanwhile, falls to 7-8 with the loss.  UE will wrap up a five-game road trip on Tuesday afternoon by traveling to Louisville, Kentucky to take on the Bellarmine Knights.  First-pitch is set for 1 p.m. central time.