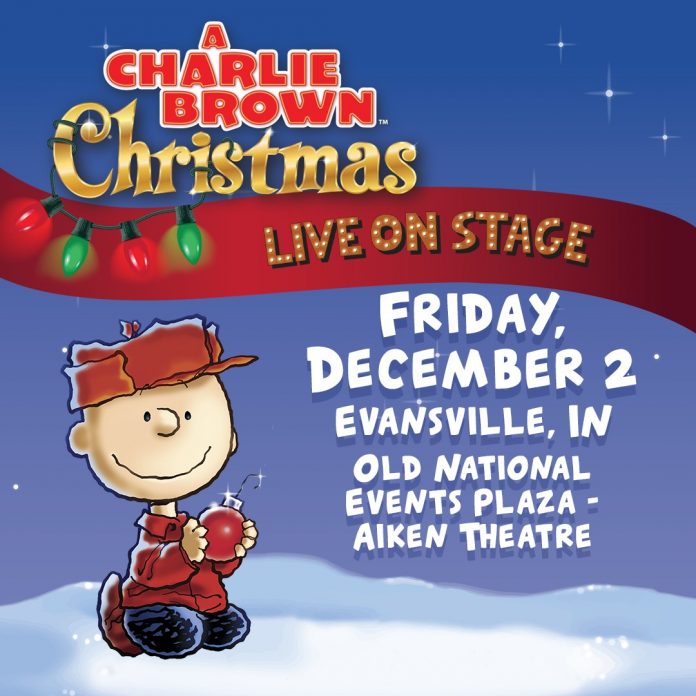 RING IN THE HOLIDAYS WITH A CHARLIE BROWN CHRISTMAS LIVE ON STAGE!
TICKETS ARE ON SALE ON AUGUST 19 AT 10 AM
Evansville, IN –  August 16, 2022 – Watch the timeless holiday television special come to life with A Charlie Brown Christmas Live On Stage, this December 2 at Old National Events Plaza. Enjoy a holiday celebration with the whole family as Charlie Brown, Snoopy, Lucy, Linus, and the rest of the Peanuts gang uncover the true meaning of Christmas live on stage! A Charlie Brown Christmas Live On Stage includes all of your favorite scenes from the original animated television show, plus more fun, more music and more Christmas spirit! After the final bow, the show crescendos into a joyful set of holiday music as the Peanuts gang sings traditional Christmas songs and carols.
The critically acclaimed musical experience features songs from the unforgettable original musical score, paying tribute to the legendary composer Vince Guaraldi. Complete with all-new immersive sets, lighting, choreography and colorful costumes, this Broadway-style production has sold more than 300,000 tickets to date.
Fans can visit www.acharliebrownchristmaslive.com for more information.
 Ticket Information:
What:                   A Charlie Brown Christmas Live On Stage
When:                  Friday, December 2, 2022, at 7 PM, doors open at 6 PM
Where:                Old National Events Plaza, Aiken Theatre
Tickets:                Tickets start at $28.00 plus applicable fees and tax (Tickets are required for guests 2 years plus)
              Tickets are available at Ticketmaster.com or the Old National Events Plaza Box Office. For more information about Aiken Theatre visit: www.oldnationaleventsplaza.com.
About Peanuts
The characters of Peanuts and related intellectual property are owned by Peanuts Worldwide, which is 41% owned by WildBrain Ltd., 39% owned by Sony Music Entertainment (Japan) Inc., and 20% owned by the family of Charles M. Schulz, who first introduced the world to Peanuts in 1950 when the comic strip debuted in seven newspapers. Since then, Charlie Brown, Snoopy, and the rest of the Peanuts gang have made an indelible mark on popular culture. In addition to enjoying beloved Peanuts shows and specials on Apple TV+, fans of all ages celebrate the Peanuts brand worldwide through thousands of consumer products, as well as amusement park attractions, cultural events, social media, and comic strips available in all formats, from traditional to digital. In 2018, Peanuts partnered with NASA on a multi-year Space Act Agreement designed to inspire a passion for space exploration and STEM among the next generation of students.
About Old National Events Plaza
Old National Events Plaza, managed by ASM Global, is Evansville, Indiana's premier convention center and largest live entertainment theatre. Housing a spacious 2,500-seat theatre, 38,000 square- feet of column-free exhibit space, a beautiful 14,000 square-foot ballroom, and 12,00 square feet of meeting space, Old National Events Plaza hosts a variety of events. The venue offers easy scheduling, one-stop-shop services, and in-house catering and audio-visual services. For more information and a complete schedule of events, please visit www.oldnationaleventsplaza.com.www.asmglobal.com.