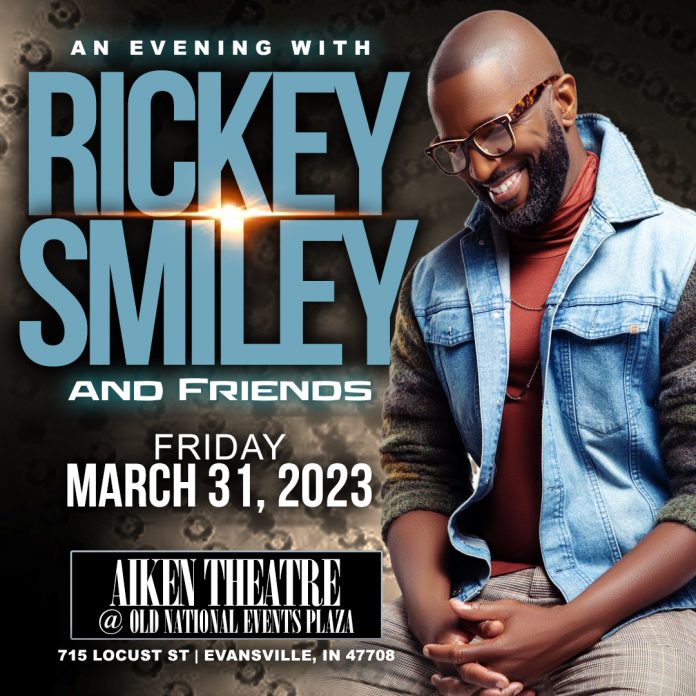 TICKETS GO ON SALE FRIDAY, JANUARY 20, 2023 AT 10 AM
Evansville, IN – January 18, 2023 – Entertainment powerhouse Rickey Smiley will host An Evening with Rickey Smiley and Friends at Old National Events Plaza on March 31, 2023. Smiley is a comedian, television host, actor, and top-rated nationally syndicated radio personality.
Rickey has become one of the entertainment industry's most celebrated performers, known for delivering laughs to audiences both on and off stage during his 27-year career. With the distinct ability to take everyday observations and turn them into comedic gold, Smiley is one of the few "clean" contemporary comics.
Rickey has recorded eight best-selling albums including iTunes #1 best-selling comedy album, "Rickey Smiley: Prank Calls Number 6." Smiley has hosted BET's "Open Casket Sharp" and "Comic View," and has appeared on "Showtime At The Apollo," "Uptown Comedy Club," HBO's "Def Comedy Jam" and "Snaps." In addition to being featured on DISH NATION, his nationally syndicated morning radio show can be heard in over 60 markets.
Rickey joined forces with Radio-One-owned television network, TV One, as the star, executive producer, and namesake of his own top-rated docu-series, "Rickey Smiley For Real." Now in its fifth season, the amusing series features the balancing act of a working radio host, comedian, business mogul, and philanthropist with the joys and pains of being a single father of four.
Continuing to grow his fan base, Rickey's arresting natural talent is best demonstrated in his major feature film roles in urban classics including "All About the Benjamins" and "Friday After Next," along with his most recent starring turn in the hit romantic comedy "Baggage Claim."
For more information about Rob Schneider please visit www.rickeysmiley.com
Ticket Information:
What:                   An Evening with Rickey Smiley and Friends
When:                  Friday, March 31, 2023, at 8:00 PM
Where:                Old National Events Plaza | 715 Locust Street | Evansville, IN 47708
Tickets:                Tickets start at $45.00 plus applicable fees and tax.
Tickets are available at Ticketmaster.com or the Old National Events Plaza Box Office. For more information about the Aiken Theatre, visit: www.oldnationaleventsplaza.com.