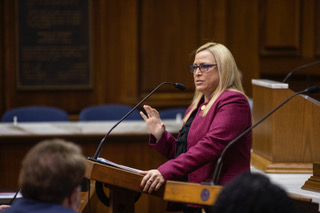 Rep. McNamara Reappointed As Chair Of  House Courts, Criminal Code Committee
STATEHOUSE (Dec. 2, 2022) 
State Rep. Wendy McNamara (R-Evansville) today was reappointed to serve as chair of the House Courts and Criminal Code Committee."This committee has been successful in vetting bills that reduce recidivism rates, reform juvenile justice policies and strengthen the state's criminal justice system for the safety of all Hoosiers," McNamara said. "As chair, I look forward to continuing that momentum in the upcoming legislative session and leading the charge."
House standing committee appointments are made by the Indiana House Speaker biennially after the November election and are in effect for the duration of members' two-year terms.
"I'm excited about the talents and wide range of experience that our chairs will bring to their committees, and I look forward to working closely with each of them," said House Speaker Todd Huston (R-Fishers). "As we head into the budget session, we have many challenges and opportunities in front of us, and I'm confident in our team's abilities to vet and pass policies that put Hoosiers first."
House lawmakers are scheduled to convene at 1:30 p.m. on Jan. 9 for the first day of the 2023 legislative session. Hoosiers can visit iga.in.gov to find legislation, view calendars, and watch committee meetings and session.McNamara encourages constituents to visit in.gov/h76 to sign up to receive e-newsletter updates about what's happening at the Statehouse throughout the legislative session and beyond.   
FOOTNOTE: State Rep. Wendy McNamara (R-Evansville) represents House District 76,  which includes all of Posey County and a portion of Vanderburgh County.