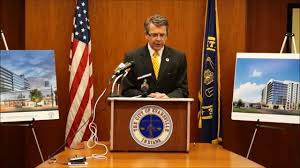 City of Evansville / Reopen Evansville Task Force Update | November 24, 2020
Since the beginning of the COVID-19 pandemic, Mayor Lloyd Winnecke and the City of Evansville have led a comprehensive community effort to address challenges impacting our city and developing a path forward.
Through collaborations with our medical community, each decision has been based on professional guidance and data provided by local and state health officials.
"Do Your Part" Message

Mayor Winnecke joined Mayors from southwest Indiana to ask the public to limit their special gatherings and act responsibly during the upcoming holiday season.

Current Executive Orders

On November 15th, Governor Holcomb's latest Executive Order took effect limiting the size of social gatherings to 50 people. Special events would need the approval of the local health department.

Click

here

for more information.
In addition to testing at local hospitals, C.K. Newsome Center in downtown Evansville serves as a COVID-19 testing site, which is administered by OptumServe through funding from the IN State Department of Health.

The site is open Monday through Friday from 8 a.m. to 8 p.m. Registration is required

here

or by calling 888-634-1116.

Testing is free to all and no medical insurance is necessary. However, residents with existing insurance are asked to provide that information during the scheduling process.
Help Slow the Spread of COVID-19