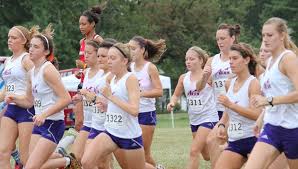 Purple Aces Smash Track and Field Program Records at Indiana Stat
Final Results
TERRE HAUTE, Ind. –  The University of Evansville track and field team started off the indoor season strong with four new school records at the John Gartland Invitational on Saturday.
Picking up where she left off last season, Anna Lowry posted a sub five-minute mile (4:58.87) improving her own school record, while winning the event by over 15 seconds.
Kylee Peck added to the new UE program records in the high jump, posting a 1.60m (5'3") leap, finishing third.
Taiza Alexander bested her own program record in the long jump, finishing with a mark of 5.38m (17'8") to earn third place in the event.
Also taking down her own school record was Brittany Corley in the women's weight throw. Corley tossed a 12.58m (41'3.25") mark to finish in seventh place.
Joshua Myers and JJ Pederson finished in fifth and sixth place respectively in the mile run, with Myers finishing in 4:33.23 and Pederson setting a personal best at 4:33.75.
Trey Riggs also added a personal best in the 60-meter hurdle finals at 8.76, finishing in fourth. Riggs also added a 6.34m long jump mark, finishing in sixth.
Ian Alberts captured third place in the men's pole vault with a final mark of 4.35m.
The Aces next scheduled indoor track and field event is the MVC Championships hosted by Northern Iowa on February 27-28.