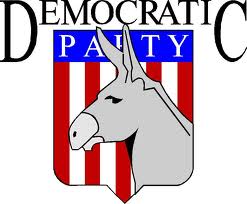 Vanderburgh County Democratic Party
Vanderburgh County Democratic Party
Central Committee
Edie Hardcastle, Chair;
ediehardcastle@gmail.com
Nick Iaccarino, Vice Chair
Alex Burton, Political Director
Cheryl Schultz, Treasurer
Melissa Moore, Secretary
Attention Absentee Ballot Voters
Absentee ballots must be received by the
Vanderburgh County Election Office by
12:00pm (Noon) on Tuesday, June 2.
***Remember to submit your Absentee Ballot by the deadline if you have not yet done so.
***If you have already mailed in your absentee ballot, check to see if your ballot has been received by the Election Office by clicking HERE. Then follow these instructions.
1) In the blue box labeled, "CHECK VOTING                            STATUS", click "Check your Registration                            Record".
2) A fill-in form will appear. Fill it in with your information      and click "Submit".
3) A box will appear with the search results (your name,        county, and date of birth). Click "Continue".
4) A screen will appear welcoming you by name and              displaying your address, voting status, township, etc.      Scroll down to the bottom left of the white space to            see the statistics of your absentee ballot.
Absentee ballots are not counted until Election Day.
Dave Goldblatt of Dave's Taxi has once again has offered to provide
FREE RIDES TO THE POLLS
during early voting and on election day.
Need a ride?
Call
812-205-8662
Early Voting in-person begins Tuesday, May 26 and ends at Noon Monday, June 1.
Primary Election Day is Tuesday, June 2
Election Day Voting Locations
for
Vanderburgh County
Join Us
Tuesday, June 2
7:00 – 9:00pm
for
A Primary Election Night
Watch Party
on
ZOOM!
We are showing Leadership, Experience, and Safety at this time through a Zoom Party. No mask required!
This will be a space to watch results live, chat with fellow Dems, listen to candidates speak, and celebrate our wins! Pop in for a minute or two to say hello or stay the entire time. We will primarily use the chat feature to allow for positive feedback and questions.
Dress as you like, eat and drink what you prefer, and join us for some fun!  We will have most of the candidates and a few current office holders hopping on to give us short 1-minute speeches!
Facebook event link:
https://facebook.com/events/s/virtual-election-night-party/987950998289723/?ti=cl
FOR IMMEDIATE RELEASE
May 27, 2020Contact: Zakiya Thomas
Zakiya@DrWoodyMyers.com
317-643-1751American Federation of Teachers – Indiana Endorses Myers for GovernorIndianapolis, IND – The American Federation of Teachers – Indiana announced its endorsement of Dr. Woody Myers for governor.
"Public education in Indiana has been attacked on all fronts over the last 15 years," said the American Federation of Teachers – Indiana President GlenEva Dunham. "The American Federation of Teachers – Indiana is confident Dr. Woody Myers will fight to ensure the well-being of our teachers and students. His strong executive leadership is what Indiana needs today, and we are thrilled to support Dr. Woody Myers for Governor of Indiana."
"As a proud product of Indianapolis Public Schools, I am honored to have the endorsement of Indiana's teachers," said Myers. "I pledge to be the leading advocate for our teachers and make smart investments in high-quality education for all Hoosier students."