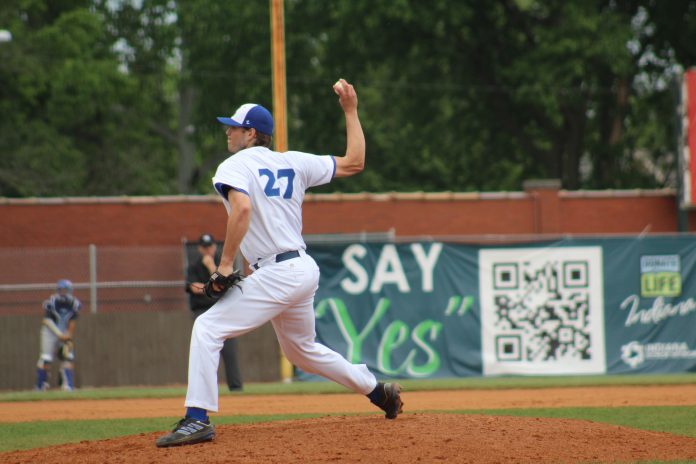 EVANSVILLE, Ind. – The Evansville Otters managed just five hits in an 11-4 loss to the New York Boulders on Wednesday night.
On the other side, the Boulders' offense went to work early in the game, striking for three runs in the opening inning.
Austin Dennis brought in the opening run on a sacrifice fly to left.  Later in the first, Francisco Del Valle and Gabrial Garcia each managed RBI hits of their own.
New York doubled their lead in the third on Chris Kwitzer's first home run of the night, a three-run shot.
Evansville finally found the run column in the third as Tyler Doanes scored on a throwing error from New York starter Andy Hammond.
Immediately in the fourth, New York returned to their scoring ways. Dennis brought the first run in with his second sacrifice fly RBI of the game. Two batters later, Del Valle grabbed his second RBI base hit of the game, extending the Boulders' lead to 8-1.
Miles Gordon manufactured a run for the Otters in the fifth, hitting for a double, stealing third and scoring on a wild pitch all with two outs.
For the second time in the evening, New York backed up an Otter run with two of their own, this time on another home run from Kwitzer, a two-run home run.
The Otters grabbed their final two runs in the eighth, beginning with Steven Sensely scoring on a wild pitch. A few pitches later, George Callil earned the only RBI of the night for Evansville with a single.
Yet again, the Boulders added to their advantage right after an Otters' run. In the top of the ninth, an RBI double for David Vinsky solidified the Boulders' 11-4 win.
The win went to Hammond, his fourth of the season. Evansville starter Brice Stuteville was handed the loss, dropping him to 0-2 in 2022.
Jake Polancic was impressive and a bright spot out of the bullpen, striking out six of the seven batters he faced in his two innings of work.
The loss sets up a series-deciding rubber match on Thursday night. First pitch for a Thirsty Thursday at Bosse Field is scheduled for 6:35 p.m.
Broadcast coverage can be found through FloSports for video streaming, and the audio-only broadcast can be heard on the Otters' YouTube channel.