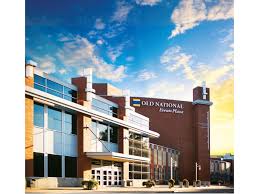 A new and exciting addition to the up-and-coming culinary landscape of Evansville, Old National Events Plaza will host the third installment of its Dinner on the Bridge series on Saturday, December 12, 2020.
Located in one of the most unique settings in the city, Dinner on the Bridge takes place on the sky bridge above Martin Luther King Jr. Boulevard which connects Old National Events Plaza to the DoubleTree Hotel and Ford Center.  Reservations are limited to 20 guests to ensure diners receive an exclusive experience, and world-class service while parties remain socially distant.  Attention is paid to every detail throughout the evening, with safety being the top priority.
Dinner on the Bridge offers five courses of fine cuisine curated by George Sidaros, Old National Events Plaza's Director of Food & Beverage.  Delizia! An Italian Holiday features a wide-ranging menu of carefully prepared dishes, from Crab Cake Arancini to Roasted Herbed Lamb Chop, finished in front of diners by Chef Sidaros.  Wine pairings are offered throughout the evening to enhance each course, with tasting notes provided by a sommelier.  The experience is intimate, as Chef and Sommelier guide guests through the menu, and attendees receive recipes from the evening to take home.
"We want to show Evansville and the region how convention center dining can be more fun, elegant and diverse. We thought the best way to start a new experience was to take guests out of the banquet rooms and use a unique space within our venue," notes Chef Sidaros.
Sophisticated enough for the experienced foodie, while remaining accessible to those just starting to expand their palate, Dinner on the Bridge creates an atmosphere unlike any other in Evansville, where fine dining meets entertainment.
What:                  Dinner on the Bridge, Delizia! An Italian Holiday
When:                 Saturday, December 12, 2020, 6 PM
Where:                Old National Events Plaza
Tickets:                $95.00 per person, includes five courses, a welcome cocktail, three wine pairings, coffee, and petit four.
For the complete menu and additional information, visit oldnationaeventsplaza.com