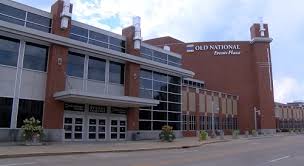 Evansville, IN – New figures released by the entertainment industry publication, Pollstar, show that Old National Events Plaza has achieved #118 of the Top 200 Theatres Worldwide.  Rankings are determined by tickets sold worldwide between November 11, 2018 and May 22, 2019.  The ranking is particularly noteworthy for the Evansville theatre, as it recognizes the venue's improvement over 2018 placement by 31 positions and a gain of 68 positions over the past 24 months.  Old National Events Plaza declared 35,651 tickets sold during the recent reporting period and placed ahead of many iconic venues, including several larger regional markets such as Nashville, Indianapolis and Louisville.
"The team at Old National Events Plaza continues to work hard to bring a variety of quality entertainment to our community.  This ranking affirms that Evansville is re-emerging as a viable and competitive stop for major artists and live events.  It also indicates that we are easing the market's long-perceived price sensitivity; it's a great message for prospective clients and promoters that audiences in Evansville are buying tickets, turning out and supporting our shows!  We know our patrons are enthusiastic and diverse, and we will do our best to deliver great experiences when they attend events at Old National Events Plaza," said Alexis Berggren, General Manager.
Some popular shows held in early 2019 at Old National Events Plaza have included the Broadway touring production of Kinky Boots, Steve Martin & Martin Short, John Mellencamp, John Crist, The Doobie Brothers, Chicago and Willie Nelson.
Old National Events Plaza is proud to be recognized in Pollstar's Mid-Year Worldwide Top 200 Theatre Venues and looks forward to more, outstanding programming in 2019 to include: Foreigner on August 13, Oldies Soldies Love Jam Concert on September 21, The Color Purple on November 4, Alice Cooper on November 27 and many others.
For a complete schedule please visit: http://oldnationaleventsplaza.com/
####
About SMG
SMG provides management services to more than 230 public assembly facilities including convention and exhibition centers, arenas, stadiums, theaters, performing arts centers, amphitheaters, equestrian facilities, science centers and a variety of other venues. With facilities across the globe, SMG manages more than 15 million square feet of exhibition space and more than 1.5 million sports and entertainment seats. As the recognized global industry leader, SMG provides venue management, sales, marketing, event booking and programming; construction and design consulting; and pre-opening services for such landmark facilities as McCormick Place & Soldier Field in Chicago, Moscone Convention Center in San Francisco, Houston's NRG Park and the Mercedes-Benz Superdome in New Orleans. SMG also offers food and beverage operations through its concessions and catering companies, currently serving more than 140 accounts worldwide. For more information visit  www.smgworld.com.