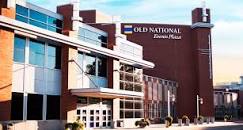 Evansville, IN – NOVEMBER 3, 2022 – At the regularly scheduled Vanderburgh County Board of Commissioners Meeting on October 11, 2022, the Board unanimously voted to renew their contract with ASM Global, the company that currently manages the Old National Events Plaza.
ASM Global has operated the convention center and 2,500-seat Aiken Theatre since its opening in 2000. Board President Jeff Hatfield stated, "ASM Global has been a valuable partner in ensuring the continued success of the Plaza!" The venue hosts over 300 event days and more than 170,000 guests annually, acting as the primary location for conventions in the destination. Commissioner Ben Shoulders, Vice-President, said, "ASM Global continues to provide top-notch service while serving as a key partner to our county. I'm excited to work with them at the Plaza."
The Aiken Theatre at The Plaza is Evansville's Broadway house and offers an average of 35 shows to the community each year. Commissioner Cheryl Musgrave stated, "ASM Global is a great partner who brings world-class entertainment to Evansville."
ASM Global is the world's leading producer of entertainment experiences, venue management and event strategy across an extensive footprint spanning five continents. The management company offers the largest and most diverse network of premier convention and trade show centers, theatres, arenas, stadiums and event venues worldwide.
"We're delighted to continue our partnership with Vandenburgh County, to help the team build on our continued success at Old National Events Plaza. We look forward to customizing our work with the facility to leverage our expertise and partnerships across the industry to bring even more exciting concerts and events while maintaining the values of a community venue," said Doug Thornton, EVP Stadiums Arenas and Theaters for ASM Global.
Nick Wallace, General Manager of Old National Events Plaza, stated, "We are honored to lead the local events industry and manage this beautiful venue. This agreement signifies the trust our organizations have cultivated throughout the last 22 years. Both Vanderburgh County and the live events industry have evolved significantly over the last 5 years, and we look forward to providing new opportunities and amazing experiences for this community in the coming years."
Wallace accepted the General Manager position at the Plaza earlier this year after previously holding the Assistant General Manager and Director of Finance roles. He noted, "The venue's initiatives for advancement include increasing customer engagement services, launching new products and technologies that will enhance our customer experience, and meeting the post-pandemic needs of an increasingly diverse population of event planners and promoters."
Access the Vanderburgh County Board of Commissioners meeting from October 11, 2022 here.
About Old National Events Plaza
Old National Events Plaza, managed by ASM Global, is Evansville, Indiana's premier convention center and largest live entertainment theatre. Housing a spacious 2,500-seat theatre, 38,000 square- feet of column-free exhibit space, a beautiful 14,000 square-foot ballroom, and 12,00 square feet of meeting space, Old National Events Plaza hosts a variety of events. The venue offers easy scheduling, one-stop-shop services, and in-house catering and audio-visual services. For more information and a complete schedule of events, please visit www.oldnationaleventsplaza.com.
About ASM Global
ASM Global is the world's leading producer of entertainment experiences. It is the global leader in venue and event strategy and management – delivering locally tailored solutions and cutting-edge technologies to achieve maximum results for venue owners. The company's elite venue network spans five continents, with a portfolio of more than 325 of the world's most prestigious arenas, stadiums, convention and exhibition centres, and performing arts venues. For more information, please visit www.asmglobal.com.