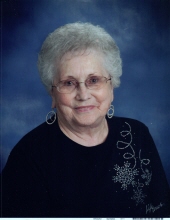 Mary L. Smith, 96, of Rockport, Indiana passed away quietly on Thursday, January 7, 2021 at Miller's Merry Manor in Rockport, Indiana with the COVID-19 virus.
Mary was born in Spencer County, Indiana on January 27, 1924 to the late Everett and Emma (Kaiser) Wilson.
Mary worked at the Grandview Post Office for many years and was involve in numerous community activities.  Her claim to fame was that she was a trophy winning Euchre player. She got her most enjoyment spending quality time with her friends, family members and grand children.  She was a loving wife, mother and grandmother.
She was a devoted Catholic and was a life long member of St. Bernard Catholic Church in Rockport, Indiana. And also a member of the Altar Society.
In addition to her parents, Mary is preceded in death by her husband, William Elmer Smith; her daughter, Diana Meyer; her granddaughter, Krystal; her siblings, Lillian Reisz, Nila Smith, Roy Wilson, Revalee Davis, Rosalee Goodwin, Veneta Labhart, Earl Wilson, and Yvonne Adkisson.
Mary is survived by her daughter Marilyn (Ron) Cosby and her grandchildren Kenny (Lori) Meyer, Pam (Rob) Moore, Melanie (Joe) Solmos, Mollie (Jill) Darke-Schreiber, and Bart (Kacy) Darke; 15 great grandchildren, 10 great-great grandchildren, and 1 great-great-great grandchild and her sister, Emma Rose Wildt and sister in laws and many nieces and nephews.
The family would like to thank the staff at Millers Merry Manor for the love and care they gave Mary.
Due to the COVID pandemic restrictions a private family funeral service and burial will be held at New Hope Cemetery in Newtonville, Indiana on Sunday. January 10, 2021.
Boultinghouse Funeral Home in Rockport, Indiana has been entrusted with her care.
Memorial contributions may be made to the Leukemia & Lymphoma Society www.lls.org and St. Bernard Catholic Church.
FOOTNOTE: If anyone who has a loved one that passes away please send their obituary to citycountyobserver.com and we will post it without costs.