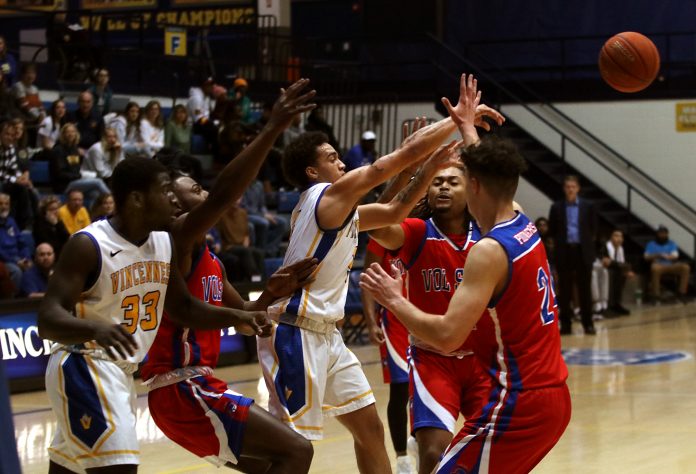 VINCENNES, Ind. – The No. 8-ranked Vincennes University Trailblazers shook off the post-Thanksgiving food coma Saturday night by picking up a big 97-61 win over Volunteer State Community College.
The Trailblazers jumped out to a quick advantage, scoring the first seven points of the game.
Vincennes would later use a 14-2 scoring run to build a 37-22 lead before closing out the opening half of play heading into the locker room leading 47-31.
Vincennes looked to again grab control of the momentum out of the locker room, outscoring the Pioneers 22-8 to open the final 20 minutes of play to grow their lead to 30 points.
VU would trade baskets later in the half but were still able to add on to their lead as the Trailblazers closed out their 10th win of the season and 10th win in a row 97-61 over Volunteer State.
"Honestly this is probably the most disappointed I've been after one of our 10 games this year," VU Hall of Fame Head Coach Todd Franklin said. "I was just not pleased with the attention to detail, the intensity and the energy. I've been around this a long time and I told the team after the game, you need to watch the film, you better come in here Monday humble and ready to work. But usually when guys get into that mode they usually don't until they take a bad loss and I can see a bad loss coming for us very soon if there is not a great altering of the mindset of what I witnessed tonight."
"I've done this a long time and I'm not trying to be negative, that's just what I saw," Franklin added. "We are going to be off tomorrow, because I really don't want to see them tomorrow. Sunday is a day that we can have off and they are not hearing me as clearly as they need to. So, I told them to go home, watch the film and we'll come back on Monday and we better have two of the greatest practices of all time to get ourselves back to where we need to be. That's what I believe. That will be the message and what I will try to do. But I was disappointed. I just didn't think tonight was very good."