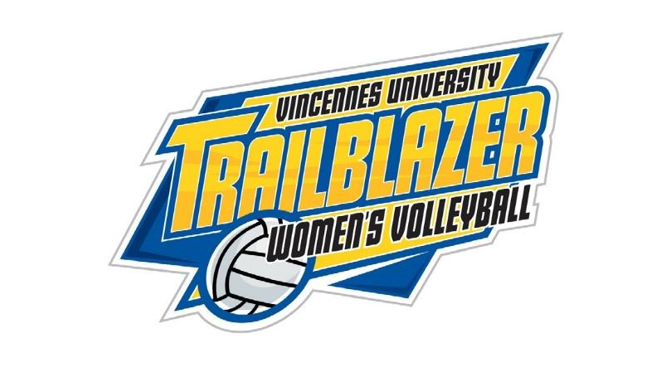 HANCEVILLE, Ala. – The No. 18-ranked Vincennes University Volleyball team hit the road this weekend to take part in the Wallace State C.C. Fall Bash and were immediately met with back-to-back matches against NJCAA Division II Receiving Votes teams, Roane State and Enterprise State.
The Blazers came away with two three-set sweeps, winning over Roane State 25-17, 25-20, 25-18 and Enterprise State 25-19, 25-22, 25-22.
VU faced a tough challenge early against NJCAA Division II RV Roane State Community College from Harriman, Tenn., near Knoxville, who entered the day unbeaten.
The Trailblazers had to get into game condition quickly after the long bus ride down to Alabama and were able to do so on their way to a three-set victory over the Lady Raiders 25-17, 25-20, 25-18.
"It was an awesome job by the team as we literally got off the bus about two hours before the game after being on it for over six hours," VUVB Head Coach Gary Sien said. "It was a matter of taking out some of their key hitters with our serving and blocking. I know we say that all the time but those aspects are hard to maintain for every match against every team."
"We were able to put a block up and force Roane State to either tip or hit shots we were able to get up and put away in transition," Sien added. "And the serving was relentless as we went after certain passers."
The VU offense was led by sophomore Paige Parlanti (Las Vegas, Nev.) who finished the first game of the day with 16 kills, six digs, two aces and one block.
Freshman Laura Tavares (Meridia, Venezuela) also reached double-figure kills against Roane State, ending with 11 kills, five digs, two blocks and one ace.
Freshman Isadora Dias (Rio Grande de Norte, Brazil) finished with four kills and seven digs, while fellow freshman Elisa Dalla Pozza (Vincenza, Italy) had three kills, four blocks, an outstanding four aces and one set assist.
Sophomore Kennedy Sowell (Effingham, Ill.) rounded out the offense with two kills and one block.
Sophomore setter Maecy Johnson (Chrisman, Ill.) ran the offense on her way to 29 set assists, four digs and one block.
Sophomore libero Morgan Netcott (Montague, Mich.) headed the Trailblazer back row defense with a team-high 19 digs and two set assists.
Freshman Grace Flexter (Oblong, Ill.) also added some help defensively, ending with six digs and one set assist.
Vincennes then had to turn around and face another NJCAA Division II Receiving Votes opponent, their second of three on the weekend, in Enterprise State Community College from Enterprise, Ala.
VU got off to a slow start in set one of this match, with the Boll Weevils building a three-point lead before Vincennes used a 6-0 scoring run to take a 10-7 advantage.
ESCC would battle back to even the score at 11-11 and later at 18-18 before VU used a late 5-0 run to come away with the first set victory 25-19 and take an early 1-0 match lead.
The Blazers looked to carry this momentum into set two and grabbed the early advantage before Enterprise State evened the score at 10-10.
VU would again build a five-point lead before ESCC answered back to cut the deficit to one at 19-18.
Vincennes continued to battle and would not allow Enterprise State to put together any sort of late scoring run as VU held on to take set two 25-22 and earn a 2-0 match lead.
Set three was more of the same back-and-forth battle we had seen so far, with Enterprise State this time gaining the early upper hand with a 13-10 lead.
VU would answer back and even the score at 14-14 before using a 7-1 scoring run to take a 23-18 lead.
Enterprise State continued to fight however, scoring three unanswered, but it wasn't enough as Vincennes took set three 25-22 and earned their second three-set sweep of the day and 13th consecutive victory.
"Enterprise played us tough as we had to stop another group of hitters right after the first match," Sien said. "They blocked us a bit so we had to work around that in our offense. The team persevered and got through two very tough opponents in just over three hours. I think we had the game under control the majority of time as we didn't let either teams make significant scoring runs in any set."
The VU offense was again led by Paige Parlanti, who finished the night with a big double-double with 17 kills, 13 digs and three blocks.
Laura Tavares was second on the kills list, filling the stats sheet with eight kills, seven digs, three blocks, one set assist and one ace.
Isadora Dias came away with six kills, six digs and two blocks, while Elisa Dalla Pozza finished the night with five kills, six digs and a team-high five blocks.
Kennedy Sowell rounds out the VU offense, finishing the game with two kills and three blocks.
Maecy Johnson again helped set up the offense, finishing with 34 set assists, four kills, one block and one dig.
Morgan Netcott again patrolled the back row defense with a team-high 17 digs and one set assist.
The Trailblazers will look to close out the weekend on a high note tomorrow, Sept. 23 when VU faces Calhoun Community College at 10 a.m. eastern, before ending the weekend against NJCAA Division II RV and Fall Bash host Wallace State Community College at 12 p.m. eastern.
"We will have to duplicate the same toughness as we displayed in getting these two sweeps, maybe more so tomorrow," Sien said. "Calhoun beat Roane State earlier today and Wallace State is obviously the host team. As stated previously, we need a fast start and to readily use our length and athletic abilities in these matches."
BOX SCORE
GAME ONE
Roane State – 17   20   18   x   x
VUVB (16-1, 7-0) – 25   25   25   x   x
VINCENNES STATS
Grace Flexter – 6 digs, 1 set assist
Morgan Netcott – 19 digs, 2 set assists
Paige Parlanti – 19 points, 2 aces, 16 kills, 1 solo block, 6 digs
Isadora Dias – 4 points, 4 kills, 7 digs
Maecy Johnson – 0.5 points, 1 block assist, 4 digs, 29 set assists
Kennedy Sowell – 2.5 points, 2 kills, 1 block assist
Elisa Dalla Pozza – 10 points, 4 aces, 3 kills, 2 solo blocks, 2 block assists
Laura Tavares – 13 points, 1 ace, 11 kills, 2 block assists, 5 digs
GAME TWO
Enterprise State – 19   22   22   x   x
VUVB (17-1, 7-0) – 25   25    25   x   x
VINCENNES STATS
Morgan Netcott – 17 digs, 1 set assist
Paige Parlanti – 19 points, 17 kills, 1 solo block, 2 block assists, 13 digs
Isadora Dias – 7 points, 6 kills, 2 block assists, 6 digs
Maecy Johnson – 4.5 points, 4 kills, 1 block assist, 1 dig, 34 set assists
Kennedy Sowell – 3.5 points, 2 kills, 3 block assists
Elisa Dalla Pozza – 8 points, 5 kills, 1 solo blocks, 4 block assists, 6 digs
Laura Tavares – 10.5 points, 1 ace, 8 kills, 3 block assists, 7 digs, 1 set assist