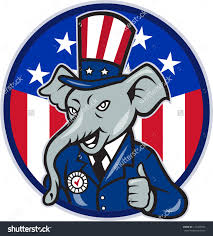 Virtual State Convention –
 Last Thursday, June 18, approximately 40 people attended the VCRP viewing of the first Virtual Republican State Convention.  Attendees watched the live-streamed event while enjoying pizza and light refreshments. Indiana Governor Eric Holcomb delivered the Convention's Keynote address, while State Republican Chairman Kyle Hupfer served as emcee.  Lt Governor Suzanne Crouch joined the convention from her home in Evansville and spoke of Republican values, the achievements of the last four years, and the promise of the future.  Evansville was also well represented on the Women in the Republican Party discussion panel by State District 78 Representative (and Indiana Republican Vice-Chair) Holli Sullivan, and on the Diversity discussion panel by Alfonso Vidal, President of Vidal Plastics.
Of particular interest to the local gathering was the State Attorney General race.  Delegates listened intently to the arguments made by Nate Harter, Curtis Hill, Todd Rokita, and John Westercamp as to why they would make the best Attorney General nominee. Following the completion of the Convention broadcast a Straw Poll of the Delegates in attendance was taken. While the ballots were being counted, VCRP Chairman Wayne Parke opened the floor to opinions and comments on the Attorney General contest. After a brief, but robust discussion on the merits of the AG Candidates, the results of the Straw Poll were provided to the group.
The results of the VCRP Straw Poll for Attorney General are as follows:
Curtis Hill  . . . . . . 61%
Todd Rokita  . . . . .26%
Nate Harter  . . . . . 13%
John Westercamp   0%
The VCRP would like to thank Frank and Michelle Peterlin for providing the facility and logistic support at the USIncubator  (815 John St) for the this event.
Watch the entire 2020 Indiana Republican State Convention HERE
Delegates: Now It's Time to Vote:


Delegates will begin receiving their ballots around June 22
Your ballot must arrive at the State GOP PO Box no later than July 9 at 5 p.m. ET.
If your ballot is received after that time it will not be counted.
 For more information about voting, watch this video and visit our convention website.
Caucus to fill House District 77 Ballot Vacancy this Saturday, June 27, 2020 :
The Indiana Republican Party is calling a Republican Caucus for Saturday, June 27 to fill the Indiana House District 77 ballot vacancy. Only House District 77 Precinct Committeemen will be allowed to vote to fill this position. House District 77 Precinct Committeemen have received official notification of the Republican Caucus. The Republican Caucus, which will be conducted by the VCRP, is scheduled as follows:
Date: Saturday, June 27, 2020
   9:00 AM House District 77 Caucus Starts Promptly
  100 Walnut Street. #1 
  Evansville, In. 47713
Qualified candidates for the House District 77 seat must file a Declaration of Candidacy (
CAN-31
) Form
in person in Indianapolis before 5:00 pm Tuesday, June 23, 2020 (TODAY).  
At present Steve Ary is the only candidate to file for the House District 77 caucus. However, it is anticipated that one more candidate will file before the declaration deadline.
Contact VCRP Political Director
Mary Jo Kaiser
at 812-425-8207 for more information.
Single Golfer $125
Foursome $450
Event Sponsor $1000 (includes team and signage)
Beverage Cart Sponsor $500
Hole Sponsor $200 (add additional holes $50 each)
Lunch Sponsor $500
Lunch Only $50 (no golf)

 WENDY MCNAMARA FOR STATE REP

OR 

Mail To:      WENDY MCNAMARA FOR STATE REP

                    822 TAWNY DRIVE, EVANSVILLE, IN 47712

Deadline July 15, 2020. 

For questions or  more information call 812-454-1364
Paid for and authorized by Wendy McNamara for State Representative Committee.
Keep America Great Fundraiser – Saturday August 8, 2020
Event: Keep America Great Fundraiser for President Donald J. Trump  

 & The Vanderburgh County GOP

Date: Saturday August 8, 2020

Time: Doors open at 4:00 pm

3714 Detroy Rd., Evansville

Henry Rifle Raffle <> Silent Auction <> Half-Pot  and more!

Event proceeds to be split by the Trump Campaign and the VCRP.

Tickets are $25 per Person (includes meal)

Event and raffle tickets may be purchased in advance at the VCRP, or at the door the day of the event. Contact Mary Jo Kaiser at 812-425-8207 for more information.

*Make Checks Payable to: Vanderburgh County Republican Party

Show your support for President Trump and the local Republican Party!
Paid for and authorized by the Vanderburgh County Republican Party
 REAGAN DAY – AUGUST 20, 2020

Mark your calendar and plan to join the VCRP at the Evansville Country Club on Thursday, August 20, 2020 for our annual Reagan Day celebration.

This year's Guest Speaker will be Indiana Lt. Governor Suzanne Crouch.
Watch for more information.
 VCRP Central Committee Meeting – Wednesday, June 24, 2020

Location: GOP Headquarters
815 John Street, Evansville
Meetings are open to all Vanderburgh County Precinct Committeemen.
Contact Mary Jo Kaiser at 812-425-8207 if you have any questions.
VCRP Monthly Breakfast – Date: July 18, 2020  
Time: 7:30 AM doors open / 8:00 AM Program
Location: C.K. Newsome Center , Room 118A-B
100 Walnut Street, Evansville, IN 47713
For more information visit the
 County Commission Meeting-
Get the Latest Coronavirus (COVID-19) Information:
| | | | |
| --- | --- | --- | --- |
| Dashboard | Coronavirus Home | Governor Holcomb Executive Orders | Coronavirus Home |
Scholarship available to seventh, eighth grade students :
(from 06/19/20 News Update)
Hoosier students completing eighth grade must sign up for the
21st Century Scholarship
program by June 30. The scholarship provides eligible students up to four years of undergraduate tuition at public colleges or universities in Indiana. As college tuition rises, this program is an opportunity for many young Hoosiers to afford a college education and achieve their career goals.
Families must meet certain income eligibility guidelines and requirements to qualify for the scholarship. Academically, scholars must also earn an overall high school grade point average of 2.5 on a 4.0 scale and graduate with at least a Core 40 diploma.
Those heading into seventh and eighth grade can
apply now,
but once in high school, students are no longer eligible to apply. Certain exceptions are made for students in foster care. With the deadline quickly approaching, those who want to save on college costs should
apply now
. Click
here
to get started.
Indiana's Reserves are Protecting K-12 Education from Budget Cuts :  (from 06/19/20 News Update)
The COVID-19 pandemic has had a tremendous impact on our state in many ways. Like the rest of the nation, Indiana's economy is taking a big hit, and the governor has ordered most state agencies to hold back 15% of their funding for next year. In addition, funding for our higher education state institutions will see about a 7% holdback.
Despite these budget challenges, Indiana's years of building up "rainy day" reserves means that
we will be able to fully fund K-12 as planned as the upcoming school year begins, though the long-term budget situation is largely dependent upon the performance of the economy moving forward.
In our most recent state budget, I supported a $763 million increase in K-12 funding. With K-12 funding making up half of our General Fund expenses, sparing K-12 schools from budget holdbacks truly demonstrates where Indiana's priorities lie.
Further, with many schools looking to implement a virtual learning option for those students who would have otherwise attended school in person if not for the unknowns surrounding the coronavirus, I'm pleased to see the governor and legislative fiscal leaders say that they intend to fully fund those students, rather than counting them as virtual students, which are funded at a lower amount. This will also give schools more budget certainty so they are able to continue providing our kids with a great education, regardless of the current difficult circumstances.
Our schools play such an important part in our communities and state, and I'm pleased to know that the plan is to continue ahead and fully fund schools for the upcoming school year.
Last week Indiana Governor Eric Holcomb announced that Indiana will move forward with the planned $183 million increase in K-12 funding.  Watch Governor Holcomb's announcement HERE.
Stay in touch with GOP state legislators representing our area (click links below):
Dr. Bucshon Co-Sponsors JUSTICE Act to Address Police Reform :
"Since coming to Congress I have made it a priority to work on legislation that improves the lives of all Americans. Time for such legislation has never been more urgent for our country to heal, which is why I support the JUSTICE Act as an original co-sponsor." – Congressman Larry Bucshon, M.D. 06/18/20
Young Cosponsors JUSTICE Act to Address Police Reform and Repair Trust:
"This comprehensive legislation ends the practice of chokeholds and provides grants for de-escalation tactics training and the use of body-worn cameras. It also enacts penalties for those who fail to comply with these provisions. The bill seeks to ensure greater transparency and accountability from law enforcement, while building stronger community relations."
– Senator Todd Young, 06/17/20
President Donald J. Trump Is Taking Unprecedented Steps To Strengthen Relations Between Law Enforcement And Their Communities: 
"We must invest more energy and resources in police training and recruiting and community engagement".
 – President Donald J. Trump 
Stay in touch with GOP members of Congress representing our area (click links below):
Visit the Vanderburgh GOP 
page for daily updates.
  Mark Your calendar                CLICK on event for more information
| | |
| --- | --- |
| June 27 (8:30 am) | House District 77 Caucus |
| July 18 (7:30 am) | GOP Monthly Breakfast |
| July 20 (10:30 am) | Wendy "Mac" McNamara Golf Outing |
| August 8 | Keep America Great Fundraiser |
| August 15 | GOP Monthly Breakfast |
| August 20 | Reagan Day Celebration |
  Make sure you add
vandygop@gmail.com
to your address book so we'll be sure to land in your inbox!
If you have any questions, contact Mary Jo Kaiser, VCRP Political Director, at
for more info. Thank you.
Paid for by the Vanderburgh County Republican Party, Farley Smith, Treasurer