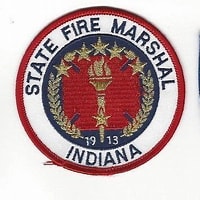 Safety is the common thread in everything we do, from our building and regulated device inspections to the high-quality training provided to firefighters across the state. When it comes to Indiana law, the wellbeing of firefighters and all public safety personnel stands at the center of all legislative priorities supported by the Indiana Department of Homeland Security (IDHS).
That is why as of June 2020, the use of dangerous Class B firefighting foam for training was prohibited by the Indiana General Assembly due to the presence of Per- and Polyfluoroalkyl (PFAS). Science has shown these materials can cause adverse health effects in people. Too many firefighters today face additional health hazards beyond the daily risks of their jobs, and this is an unnecessary risk for these public servants.
As a result, IDHS and the Indiana Department of Environmental Management have launched a program to collect PFAS foam from Indiana fire agencies. The state is offering the free pickup and disposal of any stockpiled PFAS foam in order to prevent any future health hazards to firefighters.
This important program will roll out in phases.
Indiana fire agencies and airports are asked to report any remaining PFAS foam they may have at their agencies or on their trucks through this online survey form. This will help determine the scale of the program and develop strategies to remove the material. This phase has been active for a few weeks now.
In the coming weeks, a third-party vendor will schedule a time to visit your agency, remove the material and dispose of the foam in an environmentally safe way, not only reducing risk but also saving departments thousands of dollars in disposal fees. You can download a promotional poster for the effort here.
Currently, a mechanism is not in place to replace the foam with a safer alternative. However, the free disposal of this PFAS foam will save fire agencies money in the end. Potential options to explore include donations from local industry, grant funding or a regional purchasing cooperative.
A couple things to state clearly: this is a no-strings-attached program. Agencies with PFAS foam will not be penalized. The sole purpose of this program is to collect and dispose of this material and remove it safely from all Indiana fire training sites. Plenty of alternatives can replace the PFAS foam in your inventory and eliminate safety concerns for fire agencies.
Other surrounding states have implemented similar PFAS foam collection initiatives, and all have been very successful. This is a temporary program, so all fire agencies are asked to complete the survey form as soon as possible (only once per agency).
Thank you for helping to ensure fire training in Indiana remains safe and innovative while protecting all Hoosiers.
Sincerely,

Joel M. Thacker
Indiana State Fire Marshal