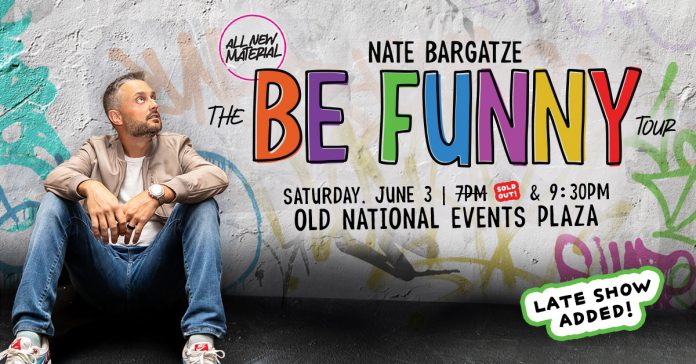 NATE BARGATZE IS SOLD OUT FOR JUNE 3, 2023
NEW SHOW JUST ADDED!
TICKETS FOR THE NEW SHOW GO ON SALE ON FRIDAY, MARCH 3, AT 10 AM
Evansville, IN – February 28, 2023 – Comedian Nate Bargatze is stopping by Old National Events Plaza on June 3, 2023, with his national tour,The Be Funny Tour. The tour is offering a second show at 9:30 PM, in response to selling out the first show slated for 7:00 PM the same night.
"We are incredibly excited to host Nate Bargatze at The Plaza this summer. His last visit was phenomenal, and we wanted to give his fans the opportunity to see him again this year. The response has been overwhelming, and we're looking forward to hosting two sell-out shows when Nate tours back to Evansville," said Nick Wallace, General Manager at Old National Events Plaza.
Hailing from Old Hickory, Tennessee, stand-up comedian Nate Bargatze has been recognized this year as "The Nicest Man in Stand-Up," by The Atlantic Magazine and a "Rising Star," by CBS Morning. The 2021 GRAMMY Award-nominated comedian and podcaster is selling out shows across the world.
Bargatze's comedy is both clean and relatable, which is evident in his ten appearances on The Tonight Show Starring Jimmy Fallon following four appearances on Late Night with Conan O'Brien. Both of Nate's one-hour Netflix specials, "The Tennessee Kid" (2019) and "The Greatest Average American" (2021) premiered globally with rave reviews.
For more information and tickets, visit www.natebargatze.com.
Ticket Information:
What:                   Nate Bargatze, The Be Funny Tour
When:                  Saturday, June 3, 2023, at 7:00 PM SOLD OUT or 9:30 PM
Where:                 Old National Events Plaza | 715 Locust Street | Evansville, IN 47708
Tickets:                Tickets start at $39.00 plus applicable fees and tax.
Tickets are available at Ticketmaster.com or the Old National Events Plaza Box Office. For more information about the Aiken Theatre, visit:www.oldnationaleventsplaza.com.
 About Outback Presents
Outback Presents is the leading independent, full-service promoter of live entertainment. From their home base in Nashville, TN, Outback Presents specializes in producing music and comedy shows, tours and festivals across North America and connecting their diverse roster of artists with their fans. For more information, visit www.outbackpresents.com.
About Old National Events Plaza
Old National Events Plaza, managed by ASM Global, is Evansville, Indiana's premier convention center and largest live entertainment theatre. Housing a spacious 2,500-seat theatre, 38,000 square- feet of column free exhibit space, a beautiful 14,000 square-foot ballroom, and 12,00 square-feet of meeting space, Old National Events Plaza hosts a variety of events. The venue offers easy scheduling, one-stop-shop services, and in-house catering and audio-visual services. For more information and a complete schedule of events, please visit www.oldnationaleventsplaza.com.