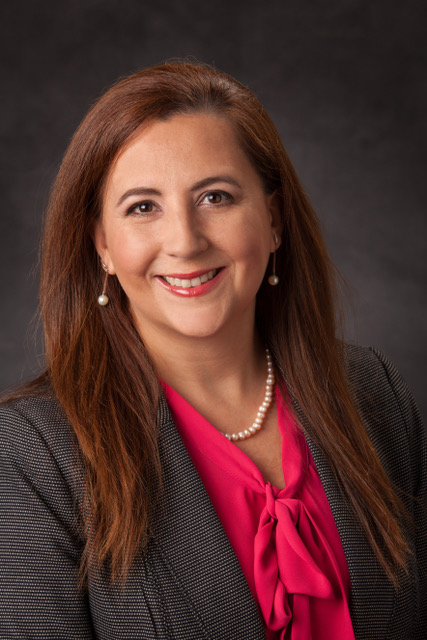 MEET DANIELA VIDAL CHANCELLOR OF IVY TECH-EVANSVILLE
Daniela Vidal arrived in Evansville from Caracas, Venezuela in January of 1998, soon after marrying Alfonso Vidal.  This was not the first time she had to pick up and move. Growing up, Daniela lived in Colombia and the United States with her parents and 4 siblings. Eventually, Daniela's family went back to Venezuela where she completed high school and college. 
After Daniela graduated with a Chemical Engineering degree from Universidad Metropolitana in Caracas, she was recruited by Procter & Gamble as an award recipient of their Challenge to Excellence program.  She started her career in the Latin American Research & Development (R&D) headquarters, conducting Product Research for the P&G Laundry detergent category, covering from Mexico to Argentina.
In January 1997, her then-boyfriend, Alfonso Vidal, was kidnapped by Colombian guerillas which led to his family moving to Evansville, Indiana.  By the end of the year, Alfonso married Daniela and she moved with him to Evansville.  Initially, they had plans to go back after he finished his Engineering degree at the University of Evansville and Daniela completed an MBA at the University of Southern Indiana.  P&G had given her a leave of absence from her role and they had many plans to establish their lives in Venezuela. However, when Chavez won the election in 1999 it became evident to them that a prosperous future in Venezuela would be elusive and decided to make Evansville their permanent home.
Staying in Evansville was not an easy decision. Leaving behind all of their plans, family and friends, career opportunities, and tropical weather was a big sacrifice. But expecting their first baby at this point made safety and stability a priority.  
Daniela started her career in Evansville working again in R&D for Mead Johnson Nutritionals. In 2001 she made a career change to work as a manufacturing engineer at GE Plastics in Mt Vernon. Over a period of 7 years, her career grew from process engineer in the Valox finishing plant to Mt Vernon Site Lean Leader, developing many of the Lean strategies for the Plastics business.  
In 2007 Daniela decided it was time for a change of pace, which led her to the opportunity to develop and implement the plan for Berry University, as Corporate Training & Development Manager at Berry Global.  In this role, she looked for cost-effective ways to create comprehensive training strategies for over 14,000 employees in 62 locations. 
In 2008, USI was recruiting someone to lead their new Technology programs in the Engineering department, the bachelors in Advanced Manufacturing and Industrial Supervision. Also, to leverage federal grant funding to build and equip the Applied Engineering Center. This role as coordinator of these two programs and engineering instructors also allowed Daniela the opportunity to launch her consulting practice, AGITO Consulting.  By providing expert services to her clients, such as Flanders and Mead Johnson, she was able to connect her students to real-life projects, enhancing the classroom experience, and bringing value to the customer.
During her 10-year tenure at USI, Daniela continued to advance in her career, eventually becoming Director of Opportunity Development.  This group housed the Center for Applied Research, the I-69 Innovation Corridor, USI @ Innovation Pointe, Eagle Innovation Accelerator, and Customized Solutions. As part of her role, Daniela developed relationships across the 13-county region from Evansville to Crane Naval Base. 
Alongside her career development, Daniela and Alfonso have both been driven by a passion and desire to give back to this community that welcomed them.  This led them to join a group of like-minded Latinos in 2002 to create HOLA, a non-profit dedicated to the advancement of cultural understanding and the successful inclusion of Latinos in the community.  From 2016 through 2020, Daniela led the organization as President of the Board.  Over the years HOLA has grown and evolved as the Latino community in Evansville has evolved as well. In addition, Daniela has been part of many different boards and community initiatives related to education, workforce, and economic development.  
Currently, Daniela serves as co-chair of the Reitz Memorial High School President's Council, YMCA Board Member and Strategic Planning Committee chair, Cursillo Secretariat Spanish co-chair, Latino Chamber Alliance, Indiana Latino Institute Legislative Advisory Committee, and Growth Alliance Innovation & Entrepreneurship co-chair.  
She has been recognized for her leadership and community involvement through various awards such as being an Athena Award finalist, Leadership Evansville, the top 5 most influential women in Evansville, Sydney Berger Community Award, and YWCA 100 years 100 women. 
Daniela and Alfonso have three children, Alfonso Enrique, Isabella, 18, and Martin Eduardo.