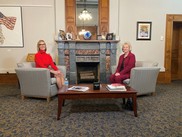 Lt. Gov. Suzanne Crouch recently hosted a fireside chat with State Sen. Vaneta Becker (R-Evansville). Click here to watch the video.
"Senator Becker has made such a positive impact on my career and was a major influencer behind why I became a state representative," Crouch said. "She has really pushed me and mentored me, and I know she has a heart and compassion for vulnerable Hoosiers, especially around Evansville."
The discussion between Crouch and Becker was part of the lieutenant governor's 2021 Fireside Chat Series. Crouch said she wanted to use this platform as an opportunity for Hoosiers to learn more about their lawmakers, the paths that took them to serve on the legislature and to find out more about the interests of Indiana senators and representatives.
Becker was first elected to the Indiana Senate in 2005.
"Lt. Gov. Crouch is a dear friend of mine, and I'm happy to have joined her for her 2021 Fireside Chat Series," Becker said. "This series is a unique opportunity for constituents to get to know the person that represents them at the Statehouse and hear them talk about more than just policy."
Becker represents Senate District 50, which consists of portions of Vanderburgh and Warrick counties.
To watch the fireside chat, visit lg.in.gov/2739 or the Lt. Governor Suzanne Crouch Facebook page.