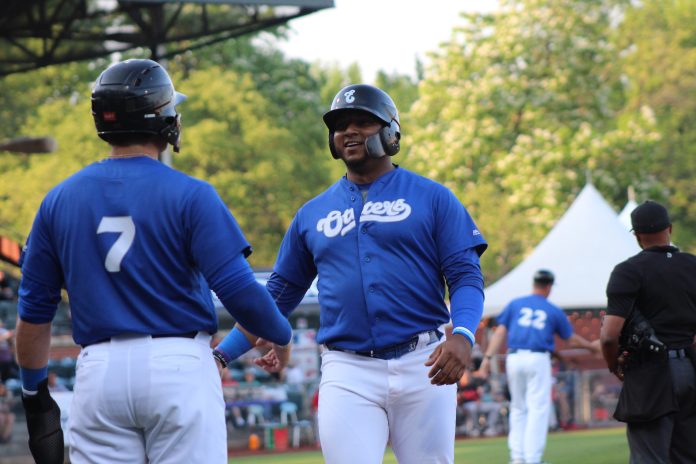 Paterson, NJ. – In their first road contest of the season, the Otters hit five home runs and shut out the New Jersey Jackals 12-0 at Hinchliffe Stadium for their seventh consecutive victory.
Jeffrey Baez starred for the Otters hitting two home runs. A two run blast down the left field line capped a three run third inning for Evansville. He followed it up with a solo homer to right in the seventh. The slugger's five on the season put him tied for most homers in the Frontier League.
On the mound, the Otters earned their third shutout of the season behind Tim Holdgrafer's six dominant innings. He has not allowed a run over 12 innings of work in his last two starts. Tuesday, he limited the Jackals to five hits and struck out five.
Evansville scored in the first inning for the eighth time in ten games this season. Bryan Rosario had a base hit and then stole second and third base before scoring on an error off the bat of Baez.
After the three runs in the second inning the Otters would blow it open in the latter innings. Troy Viola had an RBI base hit in the sixth.
After Baez's home run in the seventh, Jomar Reyes followed with a moonshot two run home run that cleared Hinchliffe Stadium's high right field wall. Reyes finished with three hits and extended his hit streak to eight games.
Evansville capped the scoring with two runs in each of the eighth and ninth innings. Troy Viola hit a solo blast in the eighth. The Purdue grad had his best day at the plate as an Otter with three hits.
Rosario added an RBI double and in the ninth Jacob Olson hit a two run blast for the Otters fifth home run of the game. Olson recorded his first multihit day as an Otter.
Evansville's bullpen extended their scoreless streak to 30.1 straight scoreless innings dating back to opening day. Leoni De La Cruz and Jon Beymer worked a scoreless seventh and eighth. Tyler Vail made his season debut, closing the game in the ninth. The all-time leader in strikeouts with the Otters is in his sixth season in Evansville.
The Otters are the first team to shut out the Jackals this season. With the win, Evansville has the best record in the Frontier League. Now at seven wins in a row, the Otters begin to eye the franchise record which was set in 2008 and matched last season at nine wins.
The Otters return for game two against the Jackals on Wednesday morning in New Jersey. First pitch from Hinchliffe Stadium is slated for 9:35 a.m. CT.
All Otters games this season are televised on FloSports with audio-only coverage available for free on the Evansville Otters YouTube page.