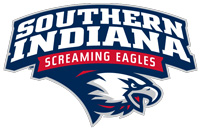 University of Southern Indiana senior forward Emmanuel Little was named the Great Lakes Valley Conference Player of the Week for his efforts in the Screaming Eagles' victory over Quincy University January 5. The GLVC Player of the Week award is the second of Little's career.
In USI's only game last week, Little led the Eagles to an 83-77 victory over Quincy with his first double-double of the season, 25 points and 14 rebounds.  The 25 points and 14 rebounds were season-highs for the senior, while also recording three steals to tie a career-best.
The senior forward  posted his game-high 25 points on 10-of-15 from the field and five-of-seven from the stripe. Little grabbed 10 defensive and four offensive boards for a game-high 14 rebounds to complete the double-double.
The Eagles (3-2) and Little get back to work for the first time since the win at Quincy Tuesday when they visit Southwest Baptist University (6-1) for a special 3 p.m. tip off in Bolivar, Missouri.