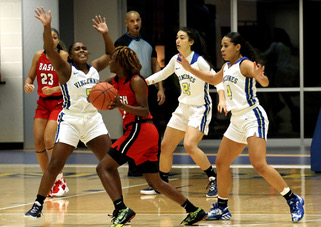 The Vincennes University Lady Trailblazers closed out the first half of their season by hosting No. 12-ranked Wabash Valley at the P.E. Complex.
The Lady Blazers fought all night against the Lady Warriors but ultimately suffered their first loss against a Region 24 opponent and their first and only loss in the month of December.
VU went toe-to-toe with the highly-ranked Warriors, producing a back-and-forth battle in the first quarter that ended with freshman Cherrelle Newsom (Indianapolis, Ind.) hitting a three at the buzzer to cut the Vincennes deficit to one point.
Wabash Valley gained control of the game in the second quarter, outscoring VU 21-10 in the 10 minute period to head into halftime with a 46-34 lead over the Lady Blazers.
Vincennes held tough in the second half but were not able to cut the deficit to under 10 points in the third quarter. Vincennes headed into the fourth quarter trailing 66-53.
VU completely shifted the momentum of the game in the early stages of the fourth quarter, cutting the Warrior lead down to five points midway through the period at 73-68.
This scoring run did not last however as Wabash Valley outscored Vincennes 21-11 to end the game and come away with a 94-79 win over the Lady Blazers.
"I thought our girls played really hard," VU Hall of Fame Head Coach Harry Meeks said. "We played spotty offensively. I didn't think we shot the ball really well and I think that was the thing that bothered me the most. Then at one point in the second quarter it didn't look like we even wanted to shoot the ball. Wabash Valley put pressure on the ball and we had trouble reversing it."
"I can't say anything bad about our effort though," Meeks added. "Our effort was really good and I think in the game you could see who would step up and who wouldn't. I was really disappointed with a couple of our girls for their lack of action but otherwise we competed, late in the game we cut it down to five points and then we had it get away from us again. But I think if we would have played a little stronger with the ball and stayed with the offense a little more than what we did, I think we would have been a much better off team."
"Wabash Valley has got a good team. They are quick. They have a bunch of Division I transfers that are quick with the ball. They have a lot of playing experience and pushed the ball up the floor. They are a nice team. For us, we are still a young team. We are playing a lot of freshmen. We have some things to overcome, but I still think we can fulfill our dreams here. We will go down scratching an clawing to make sure that we will be on the winning side in at least one of our possible two meeting with Wabash Valley left this season."
Vincennes was led offensively by their trio of guards, led by freshman Kylee Shelton (Bloomfield, Ind.) who finished with 20 points, four rebounds and a team-high three steals.
Freshman Day'Lynn Thornton ended her night with 18 points, including a perfect eight for eight from the free throw line, while also adding five rebounds and a team-high five assists on the game.
Cherrelle Newsom ended her night with 17 points, 12 of which coming in the first half, while adding four assists and a team-high three steals.
Sophomore Macy Michels (Teutopolis, Ill.) was the recipient of many assists on the low block, reaching double-figures with 12 points on a perfect six for six from the field on the night. Michels would also add four rebounds and a block to her line score.
"All of our guards showed up to play," Meeks said. "Day'Lynn tends to amaze me with her play. She seems to bring it every night and doesn't make many mistakes. She plays her heart out. I'm really pleased with our guard play. If we can get our post players to pick it up to the level of where our guards are, we have to really work on blocking out and clearing out room under the basket where we can be more efficient rebounding."
"I appreciate our guards," Meeks added. "The work hard. They do what they are supposed to do. Like Day'Lynn, we can't expect anything more out of her than what she already gives. Chanice Willis (Champaign, Ill.) came in and gave us some good minutes. Kylee did a really good job for us tonight. We threw Kylee to the wolves tonight. I just think we have to cut down on a few of the strategic mistakes and ball-handling errors and then I think we will be very competitive."
The Lady Blazers head into the Holiday break with an 11-5 record on the season and a 4-1 record in Region 24 play.
Vincennes will begin the second-half of their schedule at the P.E. Complex, when the Lady Blazers host No. 18-ranked Moberly Area Community College, from Moberly, Mo. Tuesday, Jan. 4. Tip-off time for that game will be 5 p.m. eastern.
"Some good news is that all of my girls had really good grades this semester, so we won't have to worry about losing anybody heading into the second-half," Meeks said. "This is an excellent academic team and I am really pleased and proud of that."
"I'm really pleased with our guard play so far this season," Meeks added. "Cherrelle has really done a good job for us at the point. Laila Grant (Derwood, Md.) has done an exceptional job for us and has done an outstanding job. Trinitee Harris (Elkhart, Ind.) has done a great job handling the ball and taking the pressure off of everybody else. Her speed and quickness really jumps out at you when she's on the floor. She is really trying to be a positive influence on this team and I really appreciate that. Trinitee is a great kid and has a great personality and I think there are some good things in store for her."
"Macy Michels has done a really good job for us this year. She has done a really good job for us as frontcourt leader. We are still working with her on blocking out and being more aggressive on the boards but we didn't have anybody last year averaging the number of rebounds she is this season. I'm very appreciative of all her hard work."