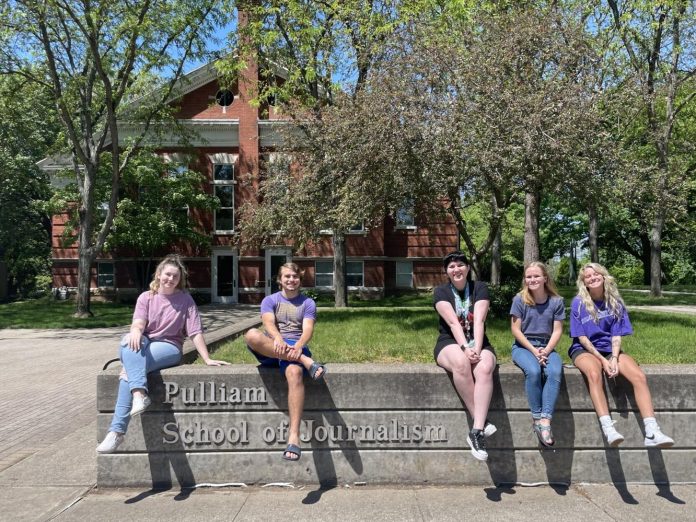 It's Time To Wish 'Good Luck' To These Five Student Journalists
Staff Report, TheStatehouseFile.com
This week, Franklin College senior Taylor Wooten, senior Ari Lovitt, junior Isaac Gleitz, junior Maddie Alexander, and freshman Ashlyn Myers completed a four-month stint working in "the Shack"—The Statehouse File's office in the press corps of the Indiana Statehouse—as well as on campus and in the field.
As part of the Pulliam School of Journalism's 16-year-old immersive learning program, they attended some 70 meetings during the 2022 legislative session and published almost 100 articles plus photos and videos on TheStatehouseFile.com. Their work also appeared in 35 Indiana media outlets that subscribe to TSF as a news service.
"A real newsroom is the best classroom for a student journalist," said Colleen Steffen, The Statehouse File's executive editor. "It can be hard and stressful for students, but for me, it's extremely satisfying to watch the growth they're able to accomplish in such a short time.
"This group was a joy to work with."
This semester's crop of J majors was challenged by an extraordinarily contentious session that saw partisan fighting over handgun licensing, the right of trans youth to play sports, post-redistricting primary races and how to respond to a possible knockdown of Roe v. Wade among other polarizing issues. Some members of staff, along with members of campus newspaper The Franklin, also continued a reporting series on disgraced former FC president Thomas Minar standing trial in Wisconsin.
"TSF was rather challenging for me," said Myers, new to college life and the youngest of the group. "In September, when I first started writing, I was what most would consider a complete rookie. I didn't know a lick of AP style, and I certainly didn't know how to craft a lede or call up legislators.
"However, I did have fellow reporters and two editors that cared enough to help me grow both my writing skills and my confidence. I learned all about state government, but I also learned about myself. I learned that I love feature writing, and that I thrive under a deadline. I learned about how to show empathy, and how to accept when you're wrong.
"TSF helped me to fall in love with journalism, and I have no intention of stopping."
Ashlyn is from Franklin and recently took home the college's Damaris Knobe Endowed Journalism Scholarship. She will continue working with The Statehouse File this summer as a freelancer, as will Alexander, an Indianapolis resident and social-media content creator with over 280,000 followers on TikTok who rediscovered a love for writing.
"TSF taught me how to better my writing skills and made me more confident about what I am doing and asking when talking to politicians," Alexander said. "It brought me new friends that I could bond over writing with."
Gleitz, of Corydon, was a finalist in the Thomas R. Keating Competition for college feature writers this past fall and won the Jerry Miller Award from the college this spring. "I learned that there is a way to be creative and add one's personal flavor to every topic, even when it comes to the most mundane," he said.
He is off to a study-abroad experience in Barcelona while TSF's two seniors will plunge into the job market. Lovitt, of Greenwood, dreams of a reporting job in music or tech.
"TSF for me was a new adventure every day," she said. "It was the most and the fastest I've ever pushed myself as a journalist—with results and improvement to boot. The team made writing and working fun … I'm so grateful for the opportunity!"
As for Wooten, of Clarksville, her accolades as a senior include second place in the Keating competition and the Harvey C. Jacobs Journalism Award, and she is off to the POLITICO Journalism Institute, a prestigious workshop accepting just 16 young journalists from across the nation, while interviewing for jobs.
"Being able to cover the session in person this semester alongside professional journalists really helped me build confidence in myself and in my choice to pursue journalism," said Wooten. "That, with support and guidance from Colleen and Kevin, really made me feel capable despite the usual young-adult doubts."
"After a 2021 session that saw our Statehouse bureau essentially shut down by COVID, forcing us to report remotely, it was good to return to the Statehouse in 2022," he said. "This year's group made the most of it, producing in both quantity and quality. I enjoyed working with them, wish our departing seniors the best, and look forward to working with those who return next year."
You can support TheStatehouseFile.com and the education of future journalists by subscribing as a reader or as a media outlet.
FOOTNOTE: Over the last several years many of the above students wrote articles for the City-County Observer and we thank them for their excellent work.  
Franklin College School Of Journalism has proven to be a valuable media partner of the City-County Observer,