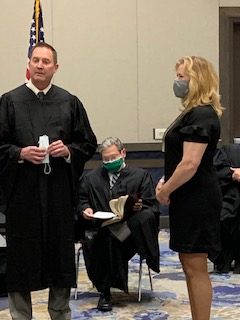 EVANSVILLE– Gov. Eric J. Holcomb recently appointed the popular and highly respected Evansville Attorney Thomas A. Massey as the next Vanderburgh County Superior Court.
Today Tom Massey succeeded the Honorable Superior Court Judge Richard G. D'Amour who retire on April 1, 2021.
A  large group of supporters, family members, state and local dignitaries attended the swearing ceremony of Judge-Massey.
The swearing-in event was held at the ONB Event Plaza at noon today.
Judge Tom Massey was sworn in by the Honorable Leslie C Shively, Chief Judge of the Superior Court of Vanderburgh County.
Chief Judge Shively made the following interesting remarks about newly appointed Judge Tom Massey before he administerd the oath of office.
INTRODUCTION AND BACKGROUND OF TOM MASSEY PRESENTED BY THE HONORABLE CHIEF JUDGE LESIE C. SHIVELY JUST BEFORE HE TOOK THE OATH OF OFFICE
Tom grew up the oldest of 4 boys in South Bend, IN.  His father was an Electrical Engineering Professor at Notre Dame and his Mother worked in a hospital laboratory.  Tom graduated from South Bend Clay High School.  For those of you old enough to remember, South Bend Clay beat Memorial for the State baseball championship in 1970.  
Tom enjoyed playing summer league baseball and went out for the Clay High School football team his junior year.  He made the Varsity that year, and during his senior year, he was a back up tight end on Clay's first and only undefeated football team in school history.  
Tom is proud to have graduated in the top half of his high school class.   He applied and was accepted to Indiana University, Notre Dame and Purdue University.  Living next to Notre Dame, he decided to go to a "party school" and ended up in W. Lafayette, IN.
In high school and during college, Tom worked in restaurants washing dishes, worked second shift at McCormick & Company food plant making salad dressings from 16 oz. bottles to 55-gallon drums.  Tom also drove a refrigerated truck for 2 summers as he had a chauffer's license.  
Tom graduated from Purdue in 1981 with a Management Degree from the Krannert School and then attended Valparaiso law school.  While in law school, Tom wrote a note that was accepted for law review the first semester second year and he became a Teaching Assistant in the Legal Research and Writing Program second semester second year and all of the third year.  
Tom started with the Bowers Harrison law firm in July 1984 as their newest associate.  25 years later he left Bowers Harrison as one of the Managing Partners.  In 2009, Tom started the Massey Law Offices in the Curtis Building.  Shortly thereafter, Joe Harrison and Lee Veazey joined him in the practice of law.  They are very proud that they never had a formal meeting during their tenure and there was never a crossword spoken.  
While at Bowers Harrison, Tom hired Kristy McDaniel and Heather Zimmer.  Neither had any legal experience and both are now among the top legal assistants in the city.  Kristy and Lee Veazey are joining the Dentons Bingham Greenebaum law firm.  Heather and Joe Harrison, Jr., are starting the Harrison Law Firm.  At Massey Law Offices, Tom hired Laurie Nevil who is now his Bailiff.  Laurie is tougher than she looks as her first employment in the legal profession was as John Clouse's assistant.  Tom said he is very fortunate to have Kendra McLeod and Jennifer Hoover stay on to help train him.  
Tom and Joanne married in 1989.  Joanne is an artist and some of her work is on display in Tom's new office in Room 218.  Tom and Joanne have 3 children.  Rachel Alban is now married and works as a Manufacturing Scientist for Eli Lilly having graduated from Purdue University in Biological Engineering.  Scott Massey graduated from Purdue in Mechanical Engineering Technology and is the Founder/CEO of Heliponix, which produces wine cooler sized hydroponic growing units for residential customers.  Their youngest, Ellie Massey, is a senior at Purdue majoring in Industrial Management and will be working for Belden Corporation when she graduates this May.
Tom has been active in Community Service since starting with Bowers Harrison.  He worked as a Deputy Election Commissioner for a number of years before being appointed to the Vanderburgh County Election Board, first serving with Election Board President Wayne Trockman and Clerk Betty Knight Smith.  Since then, Tom has served as President of the Vanderburgh County Election Board under Clerks Susie Kirk, Debbie Stucke and Carla Hayden.  Tom took a break from the election office when Russ Lloyd appointed him to the Evansville Police Merit Commission where he served from 2000 to 2004.  
Lt. Governor Suzanne Crouch called Tom on February 18, 20201 on behalf of Governor Holcomb to advise that he had been selected to replace retiring Judge Richard G. D'Amour.  Judge D'Amour's docket is in family law and civil law.  Tom practiced both family and civil law for many years.  It is Tom's goal to do the best job he can to fill the large shoes left by Judge D'Amour's retirement.
With that introduction and background, it is now time to administer the oath of office.