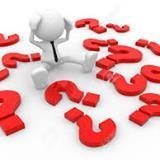 We hope that today's "IS IT TRUE" will provoke honest and open dialogue concerning issues that we, as responsible citizens of this community, need to address in a rational and responsible way City-County Observer Comment Policy. Be kind to people. No personal attacks or harassment will be tolerated and will be removed from our site."
We understand that sometimes people don't always agree and discussions may become a little heated.  The use of offensive language and insults against commenters will not be tolerated and will be removed from our site.
IS IT TRUE that when management in the private sector is faced with a serious financial challenge they come up with creative solutions to correct it?  …when a governmental entity has a serious financial shortfall they either issue bonds, reappraise our property value, or raise taxes?
IS IT TRUE we have been told that the majority of Vanderburgh County properties were reappraised last year?  ..we are told that a good number of the re-appraised properties went up in value?  …because of the increased re-assessed value of our properties, our annual property tax payments have been significantly increased?
IS IT TRUE we are told that businesses across the country and including some in this region are unable to provide their customers with the type of service they are accustomed to because a  number of the workforce is unavailable to work due to questionable claims of having complications from "LONG COVID"? …that we are also told that some members workforce are making more money for not working than by working?  …that only government can do something that is so inept that any 5th grader understands? …if you don't believe that you should find yourself a 5th grader and offer to increase their allowance if they refuse to do their chores?
IS IT TRUE that we hope political officeholders are aware that Tortious interference? … also known as intentional interference with contractual relations, in the common law of torts? …that torts occurs when one person intentionally damages someone else's contractual or business relationships with a third party causing economic harm?
IS IT TRUE that Evansville Property Owners and Managers Association (POMA) membership is fired up over 3rd Ward City Councilman Zac Heronemus's plan to amend the current "Mandatory Inspection" ordinance sometime in late June or July?  …we are told that many people are puzzled why City Councilmen Zac Heronemus decided to sponsor a controversial ordinance during the same time he is facing a major re-election challenge from a well-known businessman?
IS IT TRUE that is time for our local government leaders to learn the meaning of cognizant thought and they should only do what is mandatory and necessary to provide the services that a city is obligated to provide?
IS IT TRUE that the Evansville Regional Airport CEO, Nate Hahn, recently met with members of the Evansville City Council to ask them to approve a $250,000 grant request so the Airport officials can enhance its marketing and lobbying activity in order that the Airpot can increase air travel into and out of Evansville/Vanderburgh County? …that the money scraped Evansville City Council voted to honor Hahn's $250,000 grant request?  …that Mr. Hahn also asked the Vanderburgh County Commission to donate the same amount of money ($250,000) that Evansville City Council donated? …that we have been told that Mr.Hahn has also asked the four surrounding counties to contribute to his proposed marketing /lobbying project?   …we are also told that Mr. Hahn's goal is to raise $1 million dollars from the public and private sectors for his marketing/lobbying request on behalf of the Evansville Regional Airport?  …that we are puzzled why the Evansville Regional Airport board didn't decide to use the money from their "Rainey Day" funds to help pay for this project?
IS IT TRUE that yesterday the Vanderburgh County Council approved a $500,000 request by "VISIT EVANSVILLE" to fund part of the Pickleball Court project at Wesselman Park?  …that the $500,000 was generated from Vanderburgh County's innkeeper's tax?  …that "VISIT EVANSVILLE" CEO Alexis Berggren told members of the Vanderburgh County Council that a pickleball tournament could bring roughly 4,700 visitors to Evansville and make a $3 million dollars profit?  …that we wonder if a credible business person in the private sector would support giving the Wesselman Park Pickleball project $500,000 based on the "VISIT EVANSVILLE" CEO Alexis Berggren's questionable projections?
IS IT TRUE that we are told by several reliable sources that the City of Evansville may be facing serious financial challenges because of excessive spending?  …that high school accounting instructors teach their students when you have to borrow millions of dollars to cover current operating expenses you have serious money management and cash flow challenges?
IS IT TRUE that we have been told that an elected Democratic officeholder recently addressed a group of people in Evansville?  …that we have been told by several people attending this event that they were shocked when he encouraged those in attendance to vote Republican in the recent primary election?  …we hope that he was joking?
IS IT TRUE the CCO has always said, "Evansville is a baseball town at heart"?…we do love our Evansville Otters?  …that over the years there have been fifteen (15) pro baseball teams that called Evansville home that no longer exists?… the best and most professional were the Triplets which were an AAA farm team for the Detroit Tigers? …the other failed baseball teams in declining order were the Outlaws, White Sox, Braves, Bees, Hubs, Pocketeers, Little Evas, Black Sox, Evas, Yankees, Strikers, River Rats, Blackbirds, and Hoosiers?  … all we can say is support the Evansville Otters
FOOTNOTE:  Please take time and read our articles entitled "Statehouse Files", Law Enforcement, Weekly Birthday, Hot Jobs, and "Local Sports".  
You now are able to subscribe to get the free City-County Observer daily.  Please go to the top upper right corner of the front page of the CCO and click the "Subscribe" link to sign up.
If you would like to advertise on the CCO please contact us at City-CountyObserver@live.com.