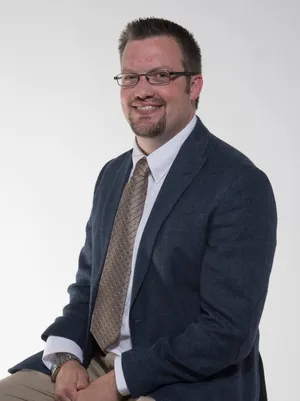 HOMETOWN BOY NICK WALLACE RISES TO THE TOP AT THE OLD NATIONAL EVENTS PLAZA
 EVANSVILLE, IN – Nick Wallace has hit the ground running.
A longtime employee of the 280,000 square foot Old National Events Plaza, Wallace just last month became General Manager of the ASM Global-managed venue and is suddenly overseeing such upcoming events as Baby Shark Live, The Masked Singer, the EVSC Summer Musical, Jurassic Quest in June, and is continuing to finalize preparations for the 71st annual National Square Dancers, also in June.
Wallace was raised in Southeastern Indiana and graduated from the University of Southern Indiana in 2005. If there ever was an example of a hometown boy making good, Nick Wallace is indeed it. In 2019 he was named Tri-State Business Journal's "20Uunder 40," and just last December he completed IAVM's Venue Management School 2-year program. Wallace was recently appointed to the Vanderburgh County Old Courthouse Foundation Board and serves on Methodist Temple's Finance Committee.
And besides everything else he's now supervising, Wallace and his team will soon announce the shows that will be coming in for the 2022-2023 Broadway season. Broadway subscribers will be provided with special subscriber gift bags. In addition, Wallace is implementing innovative food and beverage opportunities with Grab-and-Go options.
"I've been fortunate to see how Evansville has progressed as a destination for tourism and live entertainment," Wallace said. "I'm excited at the opportunity to build upon the success the community has created."
Les Crooks, Regional Vice President of ASM Global, the largest producer of live entertainment in the world, had this to say about his GM: "I have had the pleasure of working with Nick as part of the ONEP team for the past three years, two of which were very uncertain due to COVID-19. Nick has always shown a tremendous understanding of the importance of ONEP in Vanderburgh County and continues to build a wonderful working relationship with the County Commissioners. His vision and leadership will be key as live events, meetings and conventions continue to be on the rise coming out of the pandemic."