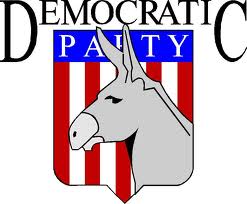 Vanderburgh County Democratic Party
Vanderburgh County Democratic Party
Central Committee
Edie Hardcastle, Chair; ediehardcastle@gmail.com
Nick Iaccarino, Vice Chair
Alex Burton, Political Director
Cheryl Schultz, Treasurer
Melissa Moore, Secretary
It's Back!
The Vanderburgh Democratic Party's Annual Red, White and Blue Raffle where you have the chance to win cash EVERYDAY the entire month of September.  With the purchase of one raffle ticket you are helping our efforts in getting local, state and national candidates elected, in coordination with a huge Get Out the Vote campaign, which is more important than ever this year!  But of course we know, the more you buy the better your odds. You can buy tickets the entire month of September. The past 5 months have been crazy, so let's have some fun with this raffle and get Democrats elected in November!
For tickets call Cheryl Schultz at
812-459-7645.
Your Vanderburgh County
Democratic Party Headquarters
(where you can also
purchase raffle tickets)
is OPEN.
Visit us at
220 NW 4th St. in Downtown Evansville – corner of NW 4th and Court Streets,
across from the Old Courthouse.