Governor convened with global governmental and corporate leaders in Sharm El-Sheikh to collaborate on sustainable economic growth

INDIANAPOLIS – Governor Eric J. Holcomb concluded his first economic development trip to the Arab Republic of Egypt today, wrapping up a week where he delivered two speeches, one a keynote address on energy innovation in Indiana; cultivating global partnerships, and building business momentum against the backdrop of the United Nations Climate Conference of the Parties (COP27) to foster the state's energy generation and technology sectors.
"This trip was a unique opportunity to share with the world how Indiana is contributing to and leading the energy transition while highlighting how our governance and partnerships achieve a thriving, sustainable energy and economic future," said Gov. Holcomb. "Indiana's story is an all above approach and through innovation and collaboration between the private and public sectors, we can achieve reliable, sustainable and affordable energy for the future."
Gov. Holcomb, who is the first Indiana governor to participate in a UN COP event and who was the only U.S. Midwest governor in attendance, delivered two keynote addresses at COP27 in Sharm El Sheikh, Egypt. On Thursday, at a session co-hosted by Georgetown University, Climate Registry and the U.S. Green Building Council, the governor discussed Indiana's collaborative strategies for building energy technology and solutions while advancing the future of reliable, renewable and affordable production, highlighting investments like Mammoth Solar that have contributed to Indiana's ranking as No. 4 in the U.S. for new clean energy projects. And on Friday, Gov. Holcomb delivered the opening address for a session on electric vehicles (EVs), sharing examples of innovations being driven in Indiana by companies like Cummins, General Motors, Stellantis, Samsung SDI, and Toyota Motor Corporation.
Indiana Secretary of Commerce Brad Chambers also took the stage at COP27, joining U.S. subnational leaders from Hawaii and Maryland for a panel discussion on advancing clean energy infrastructure and innovation, highlighting strategies to face social, environmental and economic challenges to usher in sustainable solutions for businesses and communities.
"Indiana continues to lead in new and innovative ways," said Sec. Chambers. "Our focus on advancing the energy transition through future-focused generation and technologies will put us at the center of the global economy of the future, ensuring Hoosiers are developing 21st century solutions that will power future progress and prosperity."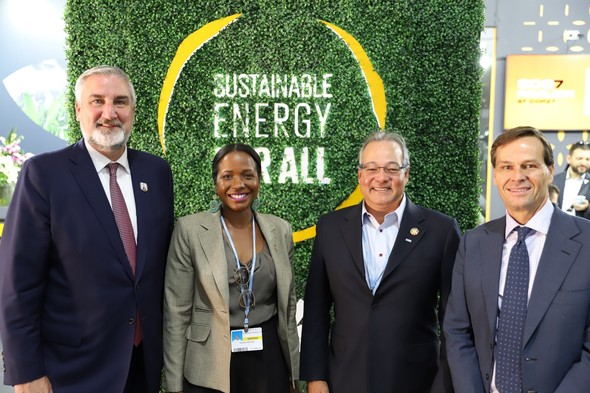 At COP27, Gov. Holcomb and Sec. Chambers met with representatives of businesses, nonprofit organizations, and universities to discuss opportunities to collaborate to advance clean energy solutions and technologies, building new partnerships and fostering existing relationships with AES Corporation; Amazon; the Climate Registry; ClimateView; a Swedish tech company with operations in Carmel; Corteva AgriScience; Heidelberg Materials; Indiana University; Rolls-Royce; and the University of Notre Dame.
The Governor and Secretary also joined U.S. and global energy and technology leaders at executive-level roundtable meetings hosted by The Climate Registry and Bloomberg Green, introducing Indiana to new partners and business prospects and highlighting the state's focus on ushering in the energy transition and building the economy of the future.
COP27, hosted by the United Nations Framework Convention on Climate Change (UNFCC), convenes more than 200 countries as well as subnational leaders. At the event, Gov. Holcomb and Sec. Chambers met with U.S. and Egypt officials, including Dr. Hala H. Elsaid, Egyptian Minister of Planning and Economic Development; Dr. Yasmine Fouad, Egyptian Minister of Environment; and U.S. Ambassador to Egypt Daniel Rubinstein, to discuss ways to grow the Indiana-Egypt relationship and met with U.S. government officials from the U.S. Department of Energy and the U.S. Department of State to highlight Indiana's commitment to being a partner in the global energy transition.
Earlier this week in Cairo, Gov. Holcomb and Sec. Chambers met with workforce development partners and students at the American University in Cairo and toured its Center for Applied Research on Environment and Sustainability (CARES).
Today, the delegation concluded its trip at a U.S.-Egypt networking reception hosted by the American Chamber of Commerce in Egypt (AmCham Egypt) and the U.S. Department of Commerce to further build connections and ties between Indiana and Egypt.   
This concludes Gov. Holcomb's 14th international trip as governor and his first visit to Egypt. Indiana is home to more than 1,050 foreign-owned business establishments, representing 40 countries and territories. In 2021, 47 foreign-owned businesses committed to locating or growing in Indiana. Together, these firms plan to invest $3.55 billion in Indiana, creating jobs with an average wage of $29.57 per hour and accounting for 14% of the total new jobs committed in 2021.