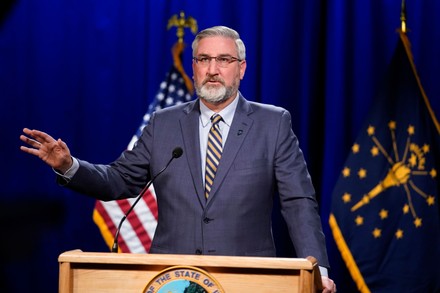 PLAINFIELD, IN – Governor Eric J. Holcomb today broke ground on an historic expansion of the Indiana Law Enforcement Academy (ILEA) training facility. Gov. Holcomb was joined by the Indiana Law Enforcement Academy Director Timothy Horty and Indiana State Police Superintendent Doug Carter.
ILEA provides basic training to more than 600 Hoosier law enforcement officers annually and is the state's only residential facility to house student officers who are in training from across the state. The project will provide a new dormitory, updated classrooms and training facilities, Indiana State Police offices, emergency vehicle track and a scenario-based training village.
"I am proud to break ground on this world-class facility so we can continue training up law enforcement officers throughout our state," said Gov. Holcomb. "It is critically important to invest in police instruction and training and Indiana is doing just that."
In 2021 Gov. Holcomb supported new funding for ILEA and signed HEA 1006 into law providing a $70M appropriation. Through this and additional federal funds, ILEA will now benefit from a total of $95M in greatly needed upgrades.
With each graduating class, ILEA strives to produce highly trained officers to protect and serve Hoosier communities while continuing to search for the best in contemporary, state-of-the-art instruction. Law enforcement agencies who use the facility include state police, conservation officers, excise police, sheriffs' departments, local police departments and more.
The expansion is expected to be completed by late December 2025.