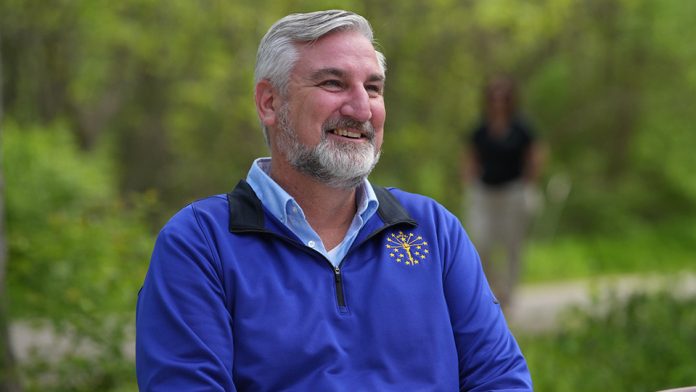 INDIANAPOLIS– Governor Eric J. Holcomb today announced the goal to expand Jobs for America's Graduates (JAG) to 250 programs in Indiana by the 2024-2025 school year. The Department of Workforce Development (DWD) has partnered with the Family and Social Services Administration (FSSA) who will invest more than $23.1 million in Temporary Assistance for Needy Families (TANF) block grants to realize this expansion from 125 to 250 programs in the state.
"Every day, Indiana's JAG program is helping more Hoosier students achieve their career and personal goals—all while helping ensure our state is prepared to meet 21st century workforce demands," Gov. Holcomb said. "With this expansion, more Hoosier communities and schools will be taking advantage of JAG's proven results and experience the positive effects of partnerships at the state, regional and local levels."
JAG is a resiliency-building workforce program that helps Hoosier high school students encountering significant barriers to graduation learn in-demand employability skills and receive career exploration and coaching experiences. JAG programming provides a structured bridge to successful post-secondary education and workforce opportunities. Administered by DWD, JAG Indiana has served 40,000 Hoosier youth and graduated more than 95% of its students from high school since its inception in 2006.
This partnership aims to launch 40 new JAG programs at Indiana high schools or college campuses by January 2024, another 45 programs by August 2024, and an additional 40 programs by January 2025. Once fully implemented, JAG Indiana's footprint will double to impact an estimated 10,000 Hoosier high school students per year.
"The skills students obtain while in JAG go beyond just getting a job; they leave high school as leaders in their community, they're more confident and they have a sense of purpose," said DWD Commissioner Richard Paulk. "The growth of Indiana's JAG program ensures opportunities for a new generation of student leaders across our state."
JAG Indiana staff and leadership have been recognized as one of the top statewide programs, earning JAG National's most prestigious award, the 6-for-6 Award. The award recognizes states surpassing graduation, further education and employment performance metrics set by the national organization. The accomplishments of the JAG Indiana class for the 2022-2023 school year included a 95% graduation rate, 83% full-time employment rate and 39% pursuing further education. In 2023, JAG Indiana's graduating class earned more than $23.2 million in grants and scholarships.
"We are absolutely thrilled with the commitment of Governor Holcomb and the Department of Workforce Development to expand JAG Indiana programming to serve several more thousand youth across the state," said incoming JAG National President and CEO Janelle Duray. "At JAG National, we know there is incredible need across the nation to ensure young people are connected to education and employment opportunities in their communities and provided the support needed to thrive, and our National Network of Affiliates are working hard to heed that call. Indiana is among those states leading the charge, and as a result, lives will be positively impacted and its employers, communities, and citizens will benefit."
FSSA's Division of Disability and Rehabilitative Services Vocational Rehabilitation program, in partnership with DWD, will continue to provide funding to support an increasing number of students with disabilities participating in JAG. The partnership, which is in its fifth year, contributes $1.5 million in federal funds per year to support students with disabilities in the program.
Expansion programs will be determined based on the following:
Schools that have already expressed interest in establishing a JAG program;

Schools with existing JAG programs that have at least an additional 40 students who will benefit from the program;
Schools with lower graduation rates and higher rates of Free-or-Reduced Lunch and/or special education cohorts;

Middle school pilot sites that align with existing JAG high school programming that focuses on study skills development, self-esteem and graduation pathways development to ensure successful transitions into high school; and
College Success Program expansion at post-secondary institution campuses; currently,
JAG has programs at Ivy Tech Community College Fort Wayne and Vincennes University.