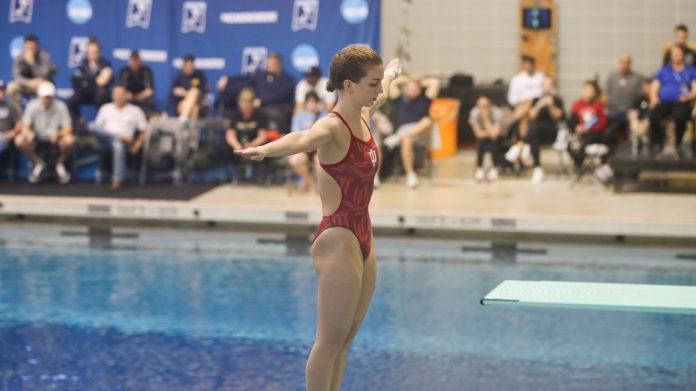 KNOXVILLE, Tenn. – Indiana swimming and diving sophomore Anne Fowler followed up her Big Ten 3-meter diving title with an NCAA runner-up finish on the second springboard Friday (March 17) night at the 2023 NCAA Women's Swimming and Diving Championships inside the Allan Jones Aquatic Center.
Five athletes scored for Indiana on the third day of the national meet with two podium finishes and fowler silver medal. With 121 points and 21 All-America honors, Indiana has already surpassed its totals from a year ago. The No. 10 ranked Hoosiers sit 10th in the team standings going into a final day full of opportunity.
Fowler, now a four-time All-American, earned her top national finish in any event. The junior tallied scores of 63.00, 63.00, 49.50, 52.65, 69.75, 72.00 for a 369.60 total. Indiana has collected six national medals over the last four championships, three of those coming on 3-meter. Fowler became the third different Hoosier to medal on 3-meter in the last two seasons as Kristen Hayden and Tarrin Gilliland finished second and third at the 2022 meet.
For Fowler, Friday was not just a test of skill on the springboard, but a character check too. In Thursday's 1-meter prelim, Fowler uncharacteristically placed 50th; mostly due to a failed dive in the fifth round. A day later, she celebrated on the podium surrounded by her teammates.
"What a great comeback for Anne!" IU head diving coach Drew Johansen said. "She experienced the lowest of lows yesterday, and with the strength and support of her team, she was able to give a career-best finish at this meet today. I am so proud of her and this team for never giving up. One more day!"
Sophomore Anna Peplowski also earned a podium placement, finishing sixth in the 200-yard freestyle. Peplowski improved from 10th place a year ago and is the first Hoosier to reach the podium since Haley Lips in 2016. During prelims, Peplowski posted her career-best non-relay time, a 1:43.27.
Indiana added three honorable mention All-Americans Friday, as senior Noelle Peplowski placed 13th in the 100-yard breaststroke (58.99), sophomore Skyler Liu finished 14th on the springboard (324.90) and senior Mackenzie Looze took 16th in the 400 IM (4:12.54). Neither Peplowski or Looze were projected to score based on their seeding coming into the meet.
"I thought the day overall was a really gritty performance," IU head swimming coach Ray Looze said. "Scoring Mackenzie in the IM and Noelle in the breaststroke, they weren't supposed to get any points. Just getting points was huge. I'm really proud of Anna Peplowski for making her first A final in the 200 freestyle. Congrats to Anne Fowler for just a massive rebound. I'm so respectful of her being able to do that. And then Skyler scoring her first points and almost making an A final was great."
Indiana's 400-yard medley relay was disqualified due to an early takeoff in the fourth leg. Of the four relays so far this week, it was the first time an IU relay has not finished with All-America status.
"The relay was unfortunate," Looze said. "It just wasn't a good relay, and then we jumped it. So, we're going to lay that to rest and focus on what we have left tomorrow. I really like how we're competing. It's really inspiring, I'm really proud of these girls, and we're going to push really hard to finish the meet off as well as we can."
RESULTS
400 IM
Mackenzie Looze – 4:12.54 (Honorable Mention All-America)

200 FREESTYLE

Anna Peplowski – 1:43.57 (All-America)
100 BREASTSTROKE
Noelle Peplowski – 58.99 (Honorable Mention All-America)
3-METER DIVE
Anne Fowler – 369.90 (Silver, All-America)
Skyler Liu – 324.90 (Honorable Mention All-America)
400 MEDLEY RELAY
DQ – Early take off.
HOOSIER ALL-AMERICANS
Elizabeth Broshears (200 Medley Relay*, 200 Freestyle Relay)
Ching Hwee Gan (800 Freestyle Relay, 500 Freestyle)
Anne Fowler (3-Meter)
Skyler Liu (3-Meter*)
Mackenzie Looze (800 Freestyle Relay, 400 IM*)
Kristina Paegle (200 Medley Relay*, 800 Freestyle Relay, 50 Freestyle*, 200 Freestyle Relay)
Anna Peplowski (200 Medley Relay*, 800 Freestyle Relay, 200 Freestyle Relay, 200 Freestyle)
Noelle Peplowski (200 Medley Relay*, 200 IM*, 100 Breaststroke*)
Ashley Turak (50 Freestyle*, 200 Freestyle Relay)
* – Denotes Honorable Mention
 
UP NEXT
Saturday is the final day of the 2023 NCAA Championships. Indiana has six preliminary swims, two divers in the platform event and will race the 400 freestyle relay during the night session. Prelims begin at 10 a.m. ET, followed by finals at 6 p.m.