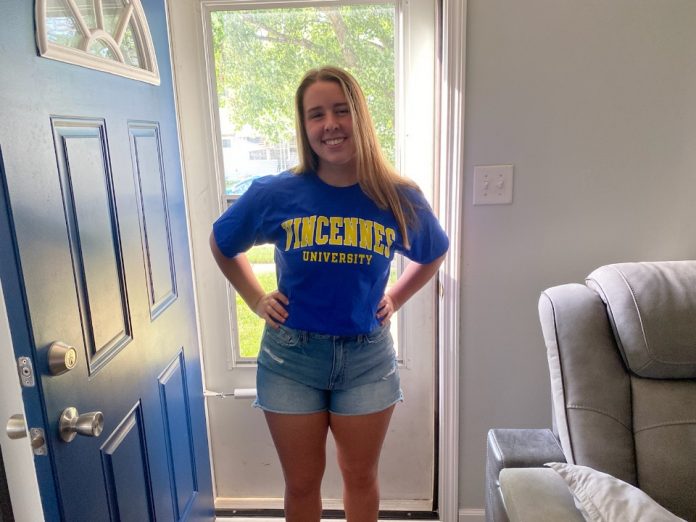 VINCENNES, Ind. – The 2021 Region 24 Champion Vincennes University Trailblazer volleyball program added local North Knox defensive specialist/libero Mallory Rogers to the 2022 recruiting class.
Mallory helped guide the Warriors to a 20-9 record this past season, ending the season with 360 digs, 60 aces and 42 set assists in 84 sets, averaging 4.29 digs per set last year. Mallory also helped North Knox win the 2021 Robinson Invitational Tournament.
Rogers is a four-year letter winner at North Knox, was twice named to the Vincennes Sun-Commercial All-Area team and was named All-Blue Chip Conference this past year.
"Mallory was a phenomenal back court player for us," North Knox Head Coach Tammy Meurer said. "When our opponent served or attacked in her vicinity, it was very difficult for them to score on us. Mallory embraced her position as libero and played with passion on the court. She approached practices with intent and it carried over to her stellar performances in our matches."
"Not only was she an amazing defender, but she was also a very effective server," Meurer added. "She could put the ball wherever I directed her to do so. I am confident that Mallory will be an asset to the Vincennes University volleyball team."
"We've had a hard time this offseason finding back row defensive specialists who can serve receive on a really consistent basis and Mallory is someone who can do that," VUVB Head Coach Gary Sien said. "One of the other things that led us to Mallory was that she started out as a setter before becoming a libero, so now we have five different players that can do a little bit of setting this year, which is never a bad thing."
"My philosophy that I have had since I began coaching at this level is that we try to look at the best local players first and then expand our recruiting out from that," Sien added. "I always feel it's best to do that so you can try to build as big of a local fan base as possible. We've done a pretty good job over the years of bringing in players from Knox, Greene, Gibson and Daviess counties, so we are always looking to add good local players."
"Coach Tammy Meurer, whose daughter Madison played for us in 2016, reached out to us with a few players that might be looking to play in college," Sien said. "Knowing that we were going to need some defensive specialists/liberos, we began looking at Mallory and she has got some really exceptional skills that we really like and that can be developed. We see quite a bit of potential, as a player and as a leader, in Mallory, which helped her stand out."
Mallory is the daughter of Doug and Yvonne Rogers and her major at Vincennes University is still undecided.
The Vincennes University Athletic Department is excited to welcome Mallory Rogers to the 2022 recruiting class.