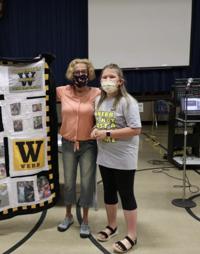 For One Cash-Strapped Indiana School, It's Grandma Barb To The Rescue
By Ashlyn Myers, TheStatehouseFile.com
FRANKLIN, Ind.—It was little Olivia's second week in the third grade at Webb Elementary.
"Her old second-grade teacher texted me and said, 'Barb, do you have any crayons? I have no crayons,'" Barb Jankowski said. "You know, our teachers don't make a lot of money. If they don't have basic supplies, they have to go and buy them if they can't find someone like me to help."
Jankowski had always shopped clearance sales and already sent her granddaughters, Olivia and Lucie, boxes of basic supplies for their teachers. It wasn't until she received the text that she realized it was a larger issue.
"I've been insulated. I really didn't realize it was that big of a problem," she said.
On average, teachers spent about $750 on classroom supplies during the 2020-2021 school year, with 30% paying over $1,000 out of their own pocket.
It's easy to see the work Jankowski has put into her mission since learning those statistics. School supplies boxes line the interior of her garage, with five stories of boxes taking up her walls. She has also garnered almost 150 followers on a Facebook group promoting the cause.
From pencils to lunchboxes, Jankowski's concerns extend to other parts of the classroom as well.
"Luckily with the COVID-19 crisis, you know, they did allow for student lunches to be paid for by the USDA," Jankowski said. "But before that, there were kids that had negative lunch balances."
Last fall, Jankowski tried to get government help by reaching out to a variety of state senators and representatives. She only received a response from U.S. Rep. André Carson, D-Indiana.
"I'm doing all I can in Congress to support our schools as they work through the unprecedented obstacles brought on by the pandemic," Carson told TheStatehouseFile.com. "That's why I have supported bills like the CARES Act and the American Rescue Plan that provide a bold increase in federal funding for schools.
"For too long, teachers and school staff have had to make do with less."
Webb Elementary Principal Cole Zook had the following to say about Barb's generosity:
"Grandma Barb has been a blessing to the Webb community for years now. When I first started at Webb three years ago, she would stop by with different food items, school supplies and other needs that our teachers had," Zook said. "After talking with her about a dream of mine to provide every student with every school supply to take that burden off of parents, she didn't hesitate to jump right in. Grandma Barb created Mimi's Mission and started to pull in her resources to make this dream a reality.
"Mimi's Mission and our local PTO were able to provide every school supply to every student this past school year. That took one more thing off of our parents' plates during a busy back-to-school time. We are so grateful for all the love and support that Grandma Barb offers to the Webb community!"
For those interested in helping Mimi's Mission, Jankowski recommended getting involved.
"If you can help, call your building's principal. Ask them what they need. Maybe you know, it's donuts in the morning for the teachers to say thank you. Maybe it's coming in and helping read to the kids in library time.
"They need your help," Jankowski said. "Just reach out if you can, if you have it in your heart."
FOOTNOTE: M Ashlyn Myers is a reporter for TheStatehouseFile.com, a news website powered by Franklin College journalism students.