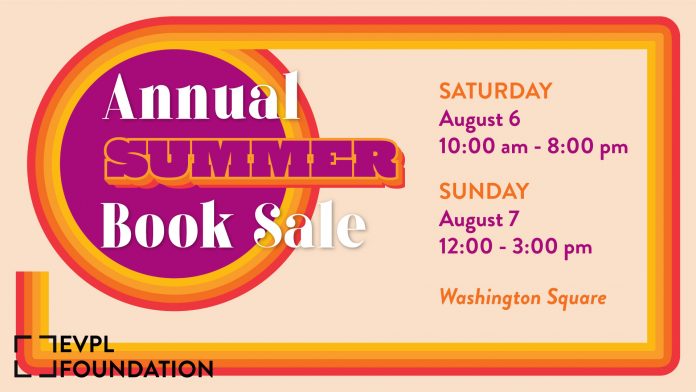 EVPL Foundation Hosting Annual Summer Book Sale 
Evansville, IN, June 24, 2022 – The Evansville Vanderburgh Public Library Foundation will host their annual Summer Book Sale at Washington Square on Saturday, August 6, and Sunday, August 7. 
Hours of the sale are Saturday, August 6, from 10:00 am to 8:00 pm and Sunday, August 7, from 12:00 to 3:00 pm. 
"The Summer Book Sale is a staple event in our community and a chance for readers to add books, movies, and music to their own collection," said EVPL CEO-Director Scott Kinney. "We are looking forward to working with the EVPL Foundation to once again have a successful book sale." 
Thousands of items, including books, movies, and CDs, will be available for purchase, mostly ranging between $0.50 and $2.00. Some specialty items will be more than $2.00. New this year, a credit card payment option will be available with a minimum purchase of $10. 
Proceeds from this sale support library programs and services, emerging technologies, collections, staff engagement, and special library projects and initiatives. 
The Fall Mini Book Sale will be at EVPL Central on November 12 and 13. 
The Evansville Vanderburgh Public Library Foundation is a 501(c)3 established to support Evansville Vanderburgh Public Library. Foundation Board Members are engaged and active community members. Working in partnership with Library Leadership and Library Trustees, Foundation Board Members support the Library through fundraising, volunteering, and advocacy. 
The Evansville Vanderburgh Public Library has served our community for more than a century. With eight locations throughout Vanderburgh County, immediate access to hundreds of thousands of digital resources, and a dedicated team of library professionals, EVPL strives to create opportunities for you to discover, explore, and connect with your 
 library. For more information, visit evpl.org.