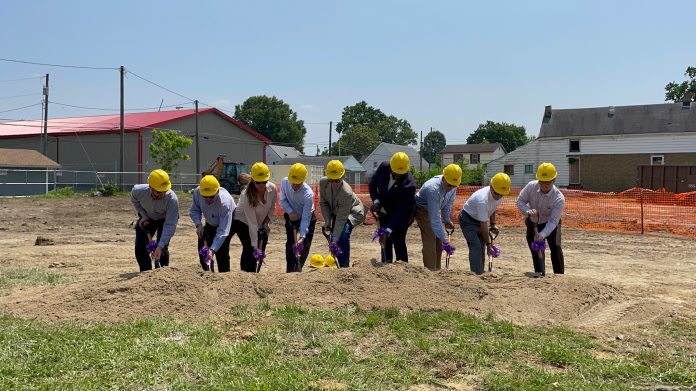 ECHO Housing Holds Promise Home Groundbreaking 
MAY 25, 2023
EVANSVILLE, Ind. – ECHO Housing Corporation held a groundbreaking ceremony today for the Promise Home. Located at 313 Read Street, the Promise Home will consist of 27, 1-bedroom units of permanent supportive housing. The property will feature on-site case management to support the needs of tenants who have previously experienced homelessness. 
ECHO Housing is the leading provider of permanent supportive housing in Southwest Indiana. The Promise Home will be the seventh homeless service program of the organization and will prioritize housing for individuals experiencing chronic homelessness. 
CEO, Savannah Wood, of ECHO Housing is confident the project will significantly reduce chronic homelessness in Evansville. "We have seen an increase in homelessness within our community, as evidenced by the preliminary numbers from this year's Point in Time Count. There was a 72% increase in the unsheltered homeless population this year when compared to years past. This project moves us one step closer in our mission to house and serve some of the most vulnerable individuals in our community." 
The Point in Time Count is an annual survey of homeless individuals on a single night conducted by multiple local agencies on behalf of the Department of Housing and Urban Development. 
Anticipated completion is Spring/Summer of 2024. 
The project is made possible with financial support from the Indiana Housing and Community Development Authority, the City of Evansville, Department of Metropolitan Development, Centerpoint Energy, United Way of Southwestern Indiana and the Greater Evansville Relief Fund. 
ECHO Housing Corporation (EHC) is a 501c3, Community Development Corporation (CDC) in Evansville, Indiana. The organization is a designated Community Housing Development Organization (CHDO), Community Based Development Organization (CBDO) and the lead 
agency of the Evansville Promise Zone. The mission of ECHO Housing is to create and sustain affordable housing, provide supportive services, and promote community and economic development. Through the development of affordable and supportive housing, EHC can meet a critical need within the community for low-income and homeless men, women, children and Veterans. 
More information about ECHO Housing Corporation can be found here: https://www.echohousing.org