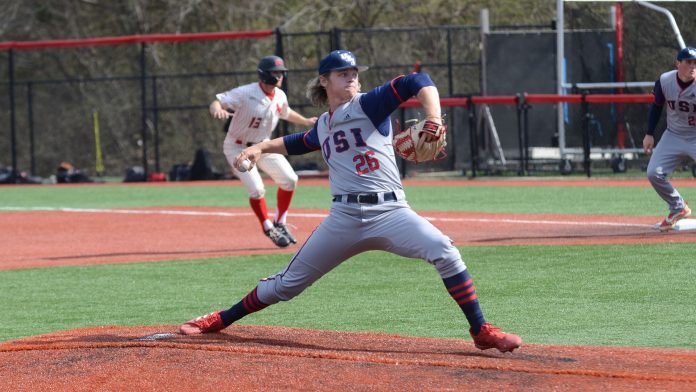 EVANSVILLE, Ind. — University of Southern Indiana Baseball opens its first Ohio Valley Conference schedule this week at the USI Baseball Field when it hosts Morehead State University for a three-game series. The series starts Friday at 6 p.m. before continuing Saturday at 2 p.m. and concluding Sunday at noon.
 
The Screaming Eagles (7-14) are coming off a tough four-game road swing and will be welcoming Morehead State (10-10) the USI Baseball Field for the first time in the history of the two programs. Links to follow USI and Morehead State this weekend can be found on the Eagles' baseball schedule at USIScreamingEagles.com.
 
Weekend Schedule Note: With the forecast of heavy rains around USI this weekend, fans can track any schedule changes on Twitter (@USIAthletics), Facebook (USI Athletics), and USIScreamingEagles.com.
 USI Baseball Notes:
USI falls at Belmont to start week: The USI Screaming Eagles allowed three runs in the bottom of the eighth and lost a 6-3 decision to Belmont University to start the week. USI was led by freshman infielder Caleb Niehaus, who had three hits, and senior outfielder Evan Kahre, who had two hits and a run scored.
  
Morris had a strong start at Belmont: In a staff day at Belmont, USI had a strong start by sophomore right-hander Gavin Morris, who picked up the no decision. Morris struck out two in three scoreless frames, allowing a walk and a hit.
 
USI swept by Murray State: The Eagles were swept by former OVC-member Murray State over the weekend, losing the rough three games by a combined 39-8.
 
Infield on the IL: USI's infield is basically on the injured list. Junior third baseman Lane Crowden is out for the season with a broken collarbone; sophomore shortstop Ricardo Van Grieken is out with a pulled hamstring; and junior first baseman Tucker Ebest is out with a hip injury.
 
Leading active hitters: Freshman infielder Caleb Niehaus leads the active USI hitters with a .360 (27-75) average and is followed by junior outfielder Drew Taylor with a .324 average (11-34). Sophomore shortstop Ricardo Van Grieken (12-32) was the leading Eagles hitter with a .375 batting average before being injured.
 
Niehaus has the hottest bat: Freshman infielder Caleb Niehaus has the hottest bat for the Eagles over the last five and 10 games. Niehaus is hitting .529 over the last five games (9-17) with a double and two RBIs, while batting .425 over the last 10 games (17-40) with two doubles and seven RBIs.
 
Playing all of the positions: Senior catcher/infielder Lucas McNew and freshman infielder Caleb Niehaus are trying to play all of the positions. McNew has played catcher, first base, and second base, while Niehaus has played second base, third base, and shortstop.
 
McNew climbing the USI All-Time charts: Senior catcher Lucas McNew is sixth all-time at USI in home runs (21); tied for ninth in RBIs (141) and tied for 10th in doubles (44).
 
USI vs. Morehead State: USI opens OVC play by hosting its first meeting with Morehead State University in baseball.
Morehead State in 2023: Morehead is 10-10 after defeating Ohio University, 19-14, today at home. The Morehead Eagles snapped a seven-game losing streak with the win, but have lost 10 of the last 12 since starting the season 8-0.