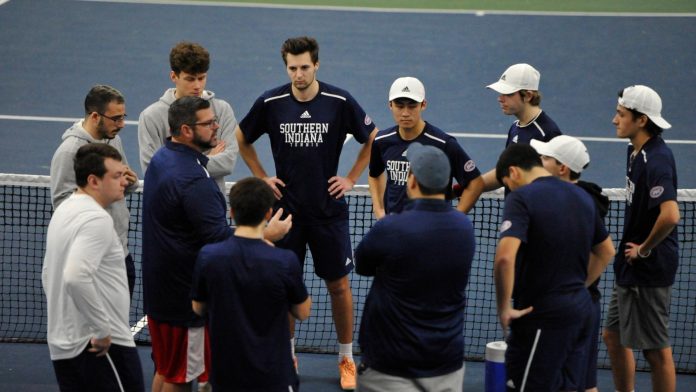 EVANSVILLE, Ind. – University of Southern Indiana Men's Tennis fell to the University of Dayton on Sunday, 6-1. The Screaming Eagles go to 2-2 on the season while the Flyers move to 5-4.
 
Doubles:
Dayton was able to claim the doubles point early in the match by taking the number one and two singles quickly. USI was able to bounce back in the number three doubles as sophomore Quinten Gillespie (Whiteland, Indiana) and freshman Alfrendo Vogelaar (Den Haag, Netherlands) were victorious in a tough match, 6-4.
 
Singles:
The Flyers didn't lose any momentum going into the singles matches, taking the first four matches and claiming the match victory in the number five singles. The Eagles were able to secure a point in the number two singles, as freshman Omar ElSamahy (Cairo, Egypt) took down the 102nd best player in NCAA Division I in two sets, 7-6 (8-6) 7-6 (7-4). Dayton would claim the final singles match to finish the day.
 
UP NEXT FOR USI:
The Eagles head on the road Sunday, February 12 for a double header against Indiana University in Bloomington, Indiana. Matches start at 8 am (CST) and 12 pm (CST). USI then returns home to host Eastern Kentucky University on February 17 at the Evansville Tennis Center.