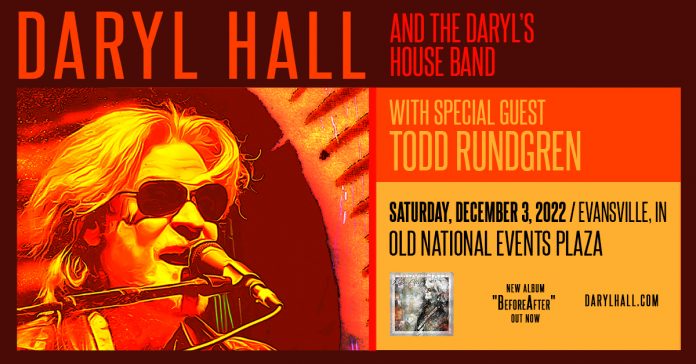 TICKETS GO ON SALE THIS FRIDAY, SEPTEMBER 23, AT 10 AM
Evansville, IN –  September 19, 2022 –  Daryl Hall will perform at Old National Events Plaza, supporting the release of his first-ever solo retrospective, BeforeAfter (Legacy Recordings). Longtime friend, collaborator, and fellow Rock and Roll Hall of Famer, Todd Rundgren will join Hall as a special guest.
Hall earned his place in the Rock and Roll Hall of Fame with the best-selling duo of all time, stars in his very own award-winning web series-turned-TV staple, Live from Daryl's House, and owns a successful venue "Daryl's House," a restored live music space in Pawling, N.Y.
BeforeAfter features 30 tracks spanning all five of his solo albums, from the 1980's Robert Fripp-produced Sacred Songsthrough 2011's Laughing Down Crying, which was co-produced with longtime Hall compatriot T-Bone Wolk. Taken as a whole, BeforeAfter draws unexpected and satisfying connections between the esoteric and accessible sides of Hall's creativity.
The collection also features six never-released performances from his groundbreaking web and TV series Life From Daryl's House, including a recording of the Eurythmics classic "Here Comes The Rain Again," performed with the song's co-writer and Hall's longtime friend and collaborator, Dave Stewart, a harmonious version of the Ruby and The Romantics chart-topper "Our Day Will Come", and "Can We Still be Friends" with a friend and tourmate Todd Rundgren. Hall launched the series in 2007 with his then-novel idea of "playing with my friends and putting it up on the internet."
Fans can learn more about the series at www.livefromdarylshouse.com and BeforeAfter athttps://legacyrecordings.link.to/BeforeAfterPR.
Ticket Information:
What:                   Daryl Hall and the Daryl's House Band with Special Guest Todd Rundgren
When:                  Saturday, December 3, 2022, at 7:30 PM
Where:                Old National Events Plaza | 715 Locust Street | Evansville, IN 47708
Tickets:                Tickets start at $53.00 plus applicable fees and tax.
Tickets are available at Ticketmaster.com or the Old National Events Plaza Box Office. For more information about the Aiken Theatre, visit www.oldnationaleventsplaza.com
About Old National Events Plaza
Old National Events Plaza, managed by ASM Global, is Evansville, Indiana's premier convention center and largest live entertainment theatre. Housing a spacious 2,500-seat theatre, 38,000 square- feet of column-free exhibit space, a beautiful 14,000 square-foot ballroom, and 12,00 square feet of meeting space, Old National Events Plaza hosts a variety of events. The venue offers easy scheduling, one-stop-shop services, and in-house catering and audio-visual services. For more information and a complete schedule of events, please visit www.oldnationaleventsplaza.com.