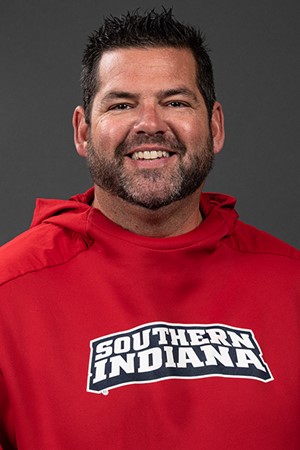 Crawford Named USI Women's Tennis Head Coach
Evansville, Ind. – University of Southern Indiana Athletics announced that Chris Crawford has been named the Women's Tennis head coach after the retirement of Keely Porter at the end of this season. Crawford will continue to lead the USI Men's Tennis program, in addition to taking the helm of the women's team.
"USI is really excited that Chris has agreed to lead our women's program and we believe he will be a great fit for the position," said Jon Mark Hall, USI Director of Athletics. "He has a strong passion for the academic and athletic success of our young people and I believe our women's team will see success in both of those areas as we make the transition to Division I in the NCAA.
"Chris was always a fierce competitor as a student-athlete and was a part of some great teams as a Screaming Eagle," continues Hall. "As the winningest coach in the history of USI Men's Tennis, Chris has proven to be a great mentor, teacher, and coach for the young men he has led and we believe he will do the same for the student-athletes on the women's team.
"We are really excited for Chris to lead both programs as we transition to a higher level," concluded Hall.
"I'm extremely excited to lead the women's tennis program after the great career of Keely Porter," said Crawford. "As we start the Division I season in August, our men's and women's teams will be ready to compete immediately.
"I look forward to working with these young men and women as they represent the high standards USI has on and off the court," continued Crawford. "I want to thank Jon Mark Hall and the USI Athletics staff in their support of me to lead the tennis programs as they move forward to competing in the Ohio Valley Conference and Division I."
Crawford has been in charge of the men's team since 2009-10 and has become the all-time winningest head coach in the history of the program (183-99). He also posted a 46-20 GLVC record in his 13 seasons, leading USI to the league championship in 2013 and to NCAA Division II Tournament in eight seasons. The Eagles made the program's first sweet 16 appearances in the NCAA II Tournament under Crawford's direction in 2013.
The native of Jeffersonville, Indiana, was a standout on the USI Men's Tennis team during his four seasons as an Eagle. He still holds the USI single-season record for most combined wins in a season (28 singles/24 doubles in 2001), had 123 career victories (58 singles and 75 doubles), and was named All-GLVC in 2002.
Crawford also was a member of the USI men's squads that won four-straight GLVC championships (1999-2002) and made three NCAA Division II Tournament appearances (2000-02).
Porter retired as head coach of the women's team after 31 seasons at the helm. She is the all-time winningest coach in USI women's tennis program, accumulating 256 victories and 118 wins in the GLVC. The Eagles also made two NCAA Division II Tournament appearances and had 12 top-four finishes in the GLVC under Porter's direction.
"USI, truly, appreciates the commitment Keely has had for our women's program for 31 years," said Hall. "I came to USI as an assistant athletics director and men's tennis coach in 1995 and she served as a great mentor and friend to me.
"Keely appreciated the term "student-athlete" and always handled herself with the greatest amount of integrity and class," concluded Hall.